Desserts, frozen
Strawberry & Chocolate Frozen Yogurt Bark
Overview
Lightly sweetened Greek yogurt gets studded with fresh strawberries and chocolate chips then frozen so you can break it into chunks just like chocolate bark (but healthier!). This colorful snack or healthy dessert is perfect for kids and adults alike. Use full-fat yogurt to ensure the creamiest bark possible.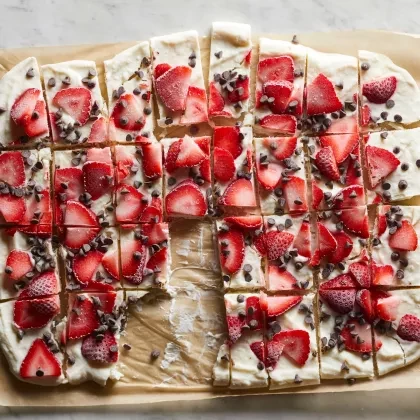 Prep time 10
Cook Time 180
Total Time 190
Nutritional Information
Calories 38kcal
Added sugars 2g
Carbohydrates 4g
Fat 2g
Saturated Fat 1g
Monounsaturated Fat 1g
Protein 2g
Cholesterol 3mg
Dietary Fiber 0g
Potassium 56mg
Sodium 9mg
Total sugars 4g
Instructions
STEP 1 Line a rimmed baking sheet with parchment paper.
STEP 2 Stir yogurt, maple syrup (or honey) and vanilla in a medium bowl. Spread on the prepared baking sheet into a 10-by-15-inch rectangle. Scatter the strawberries on top and sprinkle with chocolate chips.
STEP 3 Freeze until very firm, at least 3 hours. To serve, cut or break into 32 pieces.
© Meredith Operations Corporation. All rights reserved. Used with permission.
Ingredients
3 cups whole-milk plain Greek yogurt
¼ cup pure maple syrup or honey
1 teaspoon vanilla extract
1 ½ cups sliced strawberries
¼ cup mini chocolate chips