Main dish, meat
Sesame-Garlic Beef & Broccoli with Whole-Wheat Noodles
Overview
A savory marinade with garlic, ginger, soy sauce and sesame oil infuses flavor into sirloin steak pieces in this healthy beef and broccoli stir-fry recipe. If you have a bit of extra time, partially freeze the beef (about 20 minutes) for easier slicing.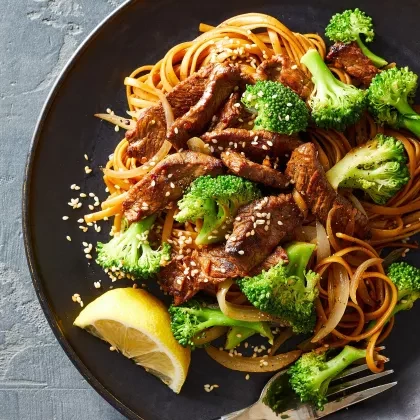 Prep time 30
Cook Time 30
Total Time 60
Nutritional Information
Calories 356kcal
Carbohydrates 39g
Fat 10g
Saturated Fat 3g
Protein 31g
Cholesterol 59mg
Dietary Fiber 6g
Potassium 770mg
Sodium 336mg
Total sugars 3g
Instructions
STEP 1 Thinly slice beef across the grain into bite-size strips. Place in a resealable plastic bag set in a shallow dish. Combine soy sauce, lemon juice, 1 tablespoon sesame oil, garlic, ginger and crushed red pepper in a small bowl; pour over the beef. Seal the bag; turn to coat. Refrigerate for 30 minutes, turning the bag once.
STEP 2 Bring a large saucepan of water to a boil. Cook linguine for 1 minute less than directed on package. Drain, reserving 1/2 cup of the cooking water.
STEP 3 Meanwhile, combine broccoli and water in a wok or medium nonstick skillet; bring to a boil over medium-high heat. Cook until the water is evaporated, 3 to 4 minutes. Add onion, pepper and the remaining 2 teaspoons sesame oil. Cook, stirring occasionally, until the broccoli is crisp-tender, 3 to 4 minutes. Transfer the broccoli mixture to a bowl; cover and keep warm.
STEP 4 Drain the beef, reserving the marinade. Add half of the beef to the hot wok (or skillet); cook, stirring, until slightly pink in the center, 3 to 5 minutes. Transfer to a plate and keep warm. Repeat with the remaining beef; remove to the plate.
STEP 5 Combine the reserved cooking water and marinade in the wok (or skillet); add the noodles. Cook over medium heat, stirring, just until the noodles are tender and the sauce is thickened slightly, 2 to 3 minutes.
STEP 6 Divide the noodle mixture among 4 plates or shallow bowls. Top with the beef and the broccoli mixture. Sprinkle with sesame seeds and serve with lemon wedges, if desired.
© Meredith Operations Corporation. All rights reserved. Used with permission.
Ingredients
1 pound boneless beef sirloin steak , trimmed
2 tablespoons reduced-sodium soy sauce
2 tablespoons lemon juice
1 tablespoon toasted sesame oil, plus 2 teaspoons , divided
3 cloves garlic , minced
1 teaspoon ground ginger
¼ teaspoon crushed red pepper
6 ounces whole-wheat linguine
4 cups broccoli florets
½ cup water
½ cup slivered onion
⅛ teaspoon ground pepper
1 teaspoon toasted sesame seeds
Lemon wedges for serving