Chicken Satay Bowls with Spicy Peanut Sauce
Overview
Preparing skewered chicken satay up to a few days ahead moves a classic Thai restaurant appetizer to delicious homemade lunch or weeknight dinner with this easy recipe. A crunchy Asian-inspired slaw serves as the satisfying low-carb base, and the bold, creamy peanut sauce brings a hint of heat to every bite.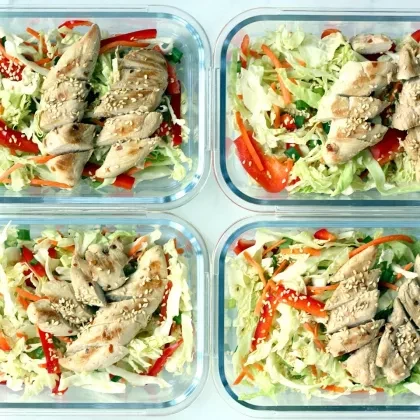 Prep time 30
Cook Time 15
Total Time 45
Nutritional Information
Calories 350kcal
Added sugars 1g
Carbohydrates 15g
Fat 20g
Saturated Fat 3g
Protein 28g
Cholesterol 63mg
Dietary Fiber 5g
Potassium 489mg
Sodium 497mg
Total sugars 6g
Instructions
STEP 1 To prepare chicken: Whisk lime juice, oil, soy sauce, fish sauce and red pepper in a shallow dish until combined; add chicken and turn to coat. Let marinate in the refrigerator for 15 minutes.
STEP 2 To prepare peanut sauce: Whisk peanut butter, coconut milk, lime juice, soy sauce, brown sugar and red pepper until smooth. Divide the sauce into 4 small condiment containers with lids and refrigerate until ready to use.
STEP 3 Preheat grill to high. Thread each chicken tender onto a wooden skewer. Grill until cooked through and no longer pink in the middle, about 3 minutes per side. Remove the chicken from the skewers and cut into strips.
STEP 4 To prepare slaw: Toss cabbage, bell pepper, carrots and green onion in a large bowl.
STEP 5 Divide the slaw among 4 single-serving containers with lids. Top each with one-fourth of the chicken and 1/2 tablespoon sesame seeds. Dress with the reserved sauce just before serving.
© Meredith Operations Corporation. All rights reserved. Used with permission.
Ingredients
3 tablespoons lime juice
3 tablespoons canola oil
2 teaspoons reduced-sodium soy sauce
2 teaspoons fish sauce
½ teaspoon crushed red pepper
1 pound chicken tenders
2 tablespoons smooth natural peanut butter
2 tablespoons "lite" coconut milk
1 tablespoon lime juice
2 teaspoons reduced-sodium soy sauce
1 teaspoon brown sugar
½ teaspoon crushed red pepper, or to taste
6 cups thinly sliced savoy or green cabbage
½ cup thinly sliced red bell pepper
½ cup matchstick-cut carrots
¼ cup finely chopped green onion
2 tablespoons toasted sesame seeds