Main dish, vegetarian
Vegetarian Mushroom Paprikash
Overview
Meaning "with paprika" in Hungarian, paprikash is a creamy spiced stew traditionally made with meat. Mushrooms are swapped for meat give this vegetarian version paprikash a hearty bite. Use a mix of varieties for a good spectrum of textures and flavors.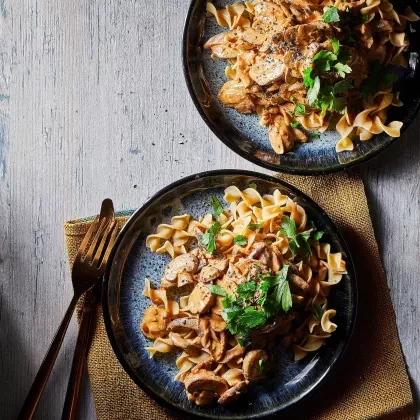 Prep time 30
Cook Time 0
Total Time 30
Nutritional Information
Calories 414kcal
Carbohydrates 50g
Fat 12g
Saturated Fat 3g
Protein 12g
Cholesterol 14mg
Dietary Fiber 7g
Sodium 387mg
Total sugars 7g
Instructions
STEP 1 Bring a large pot of water to a boil. Cook noodles according to package directions. Drain.
STEP 2 Meanwhile, heat oil in a large skillet over medium-high heat. Add mushrooms, onion and caraway seeds; cook, stirring occasionally, until starting to brown, about 12 minutes.
STEP 3 Stir in sage, garlic and paprika; cook, stirring, until fragrant, about 30 seconds. Add tomato paste and cook, stirring, for 30 seconds more. Add wine and cook, stirring occasionally, until thickened, about 3 minutes. Remove from heat and stir in sour cream, salt and pepper. Serve over the noodles, garnished with parsley, if desired.
© Meredith Operations Corporation. All rights reserved. Used with permission.
Ingredients
8 ounces whole-wheat egg noodles
2 tablespoons extra-virgin olive oil
1 pound mixed mushrooms, such as cremini, shiitake, portobello and/or button, sliced
1 small yellow onion , diced
½ teaspoon caraway seeds
1 tabelspoon chopped fresh sage or 1 teaspoon dried
2 cloves garlic , finely chopped
1 teaspoon paprika
2 tablespoons tomato paste
1 cup dry white wine
½ cup sour cream
½ teaspoon salt
¼ teaspoon ground pepper
Chopped fresh parsley for garnish