Pasta
Quick Pasta Bolognese
Overview
Who doesn't love pasta with a quick meat sauce? This crowd-pleasing healthy spaghetti Bolognese recipe is a boon for busy cooks—it's ready and on the table in just 40 minutes.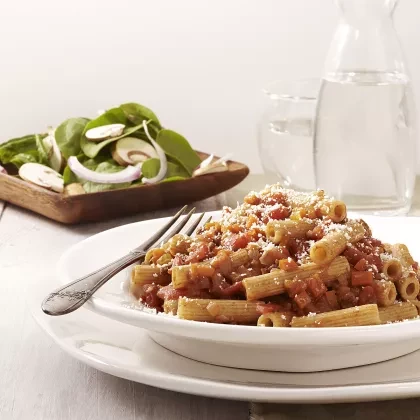 Prep time 30
Cook Time 10
Total Time 40
Nutritional Information
Calories 414kcal
Added sugars 0g
Carbohydrates 55g
Fat 10g
Saturated Fat 3g
Monounsaturated Fat 5g
Protein 26g
Cholesterol 43mg
Dietary Fiber 7g
Potassium 709mg
Sodium 522mg
Total sugars 8g
Instructions
STEP 1 Heat oil in a large nonstick skillet over medium heat. Add onion, carrots, celery and garlic; cook, stirring occasionally, until just tender, 6 to 8 minutes.
STEP 2 Meanwhile, bring a large pot of water to a boil. Add pasta and cook according to package directions. Drain.
STEP 3 Add beef to the vegetables and cook, breaking up with a wooden spoon, until cooked through, 3 to 4 minutes. Increase heat to medium-high, add wine and cook until almost evaporated, 1 to 1 1/2 minutes. Stir in tomatoes, tomato paste and nutmeg; reduce heat to medium-low, cover and simmer, stirring occasionally, for 10 minutes. Remove from the heat and stir in salt and pepper. Serve the pasta with the sauce.
© Meredith Corporation. All rights reserved. Used with permission.
Ingredients
1 tablespoon extra-virgin olive oil
1 medium onion , finely chopped
2 medium carrots , finely chopped
2 medium stalks celery , finely chopped
3 cloves garlic , minced
8 ounces whole-wheat rigatoni or penne (about 3 cups)
8 ounces lean (93% or leaner) ground beef
⅓ cup dry red wine
1 14-ounce can petite diced tomatoes
2 tablespoons tomato paste
⅛ teaspoon ground nutmeg
¼ teaspoon salt
¼ teaspoon freshly ground pepper