Main dish, vegetarian
Chipotle-Orange Broccoli & Tofu
Overview
Chipotle peppers add kick to this tofu and broccoli stir-fry recipe. If you're shy about spice, cut back on the amount or leave them out completely. Serve over brown basmati rice.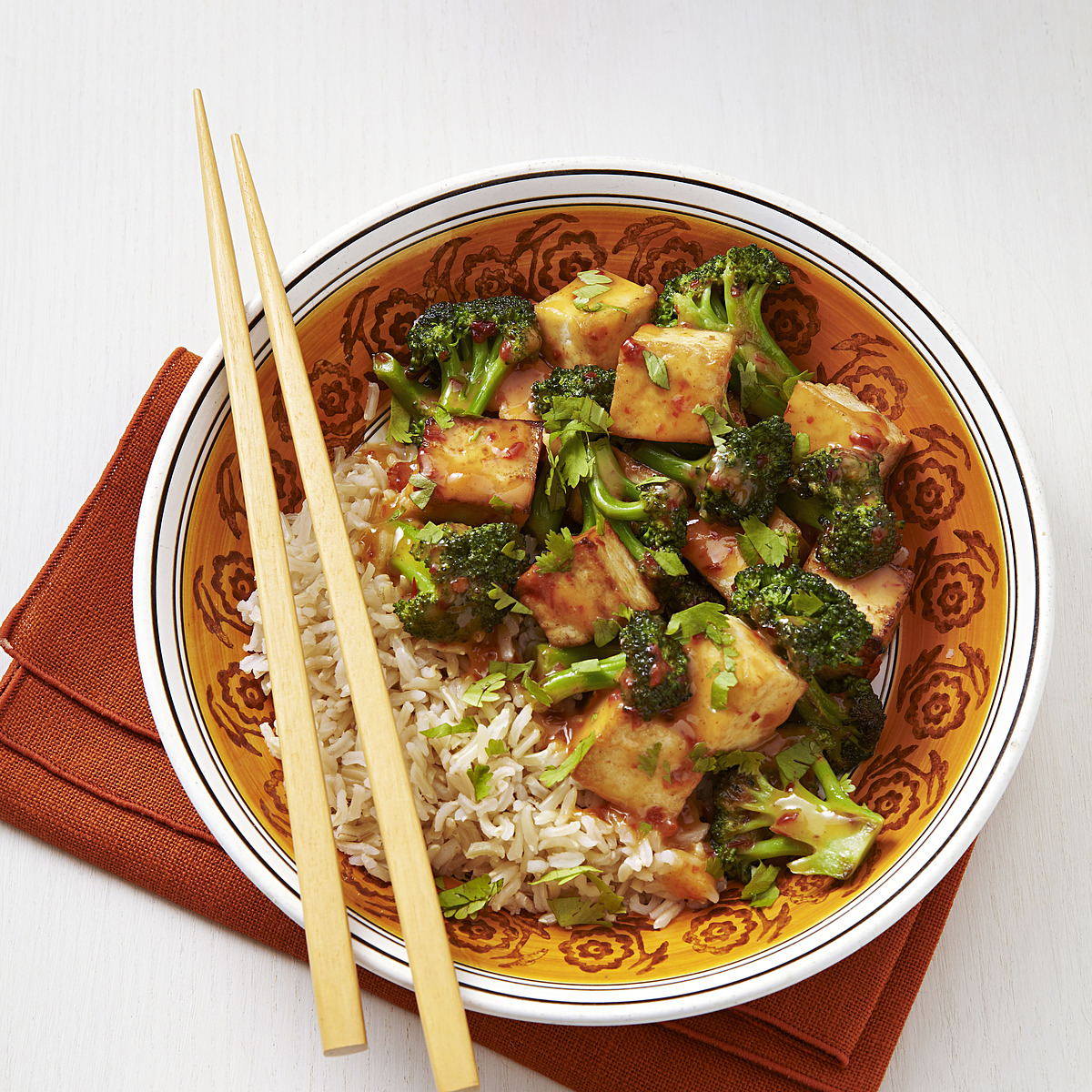 Prep time 30
Cook Time 0
Total Time 30
Nutritional Information
Calories 242kcal
Added sugars 0g
Carbohydrates 14g
Fat 17g
Saturated Fat 1g
Monounsaturated Fat 11g
Protein 13g
Cholesterol 0mg
Dietary Fiber 4g
Potassium 612mg
Sodium 337mg
Total sugars 6g
Instructions
STEP 1 Drain tofu and pat dry; cut into 1/2- to 3/4-inch cubes. Sprinkle tofu on all sides with 1/4 teaspoon salt. Heat 2 tablespoons oil in a large nonstick skillet over medium-high heat. Add tofu and cook in a single layer, stirring every couple of minutes, until golden brown, 7 to 9 minutes total. Transfer to a plate.
STEP 2 Add the remaining 1 tablespoon oil and broccoli to the pan and sprinkle with the remaining 1/4 teaspoon salt; cook, stirring, until the broccoli is bright green, about 1 minute. Add orange juice and chipotle and cook, stirring frequently, until the broccoli is just tender, 2 to 3 minutes more.
STEP 3 Return the tofu to the pan. Cook, gently stirring, until the tofu is heated through, 1 to 2 minutes. Remove from the heat and stir in cilantro.
© Meredith Corporation. All rights reserved. Used with permission.
Ingredients
1 14-ounce package extra-firm water-packed tofu
½ teaspoon salt , divided
3 tablespoons canola oil , divided
6 cups broccoli florets
1 cup orange juice
1 tablespoon minced chipotle in adobo , seeded if desired
½ cup chopped fresh cilantro