Soups/stews
Instant Pot Split Pea & Ham Soup Freezer Pack
Overview
Prep and freeze all the ingredients for this homey classic ahead of time, and it will be ready to cook and serve any night of the week—no lengthy simmering needed, thanks to the multicooker. Freezing the ingredients in a round container creates the perfect fit for an easy transfer into your pressure cooker without having to thaw first.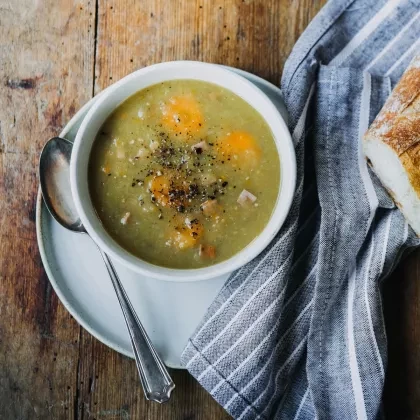 Prep time 15
Cook Time 60
Total Time 75
Nutritional Information
Calories 206kcal
Added sugars 0g
Carbohydrates 32g
Fat 2g
Saturated Fat 1g
Monounsaturated Fat 1g
Protein 16g
Cholesterol 8mg
Dietary Fiber 12g
Potassium 585mg
Sodium 316mg
Total sugars 5g
Instructions
STEP 1 To prep and freeze: Combine carrots, celery, onion, garlic, pepper and salt in a 64-ounce round, freezer-safe container. Layer the ham on top, then the split peas. Seal and freeze until ready to use, up to 3 months.
STEP 2 To cook: Let the soup mix stand at room temperature for 10 minutes. Invert the frozen soup mixture into a multicooker (the split peas should be at the bottom of the pot). Add broth and water. Lock lid in place and cook at high pressure for 30 minutes. Allow the pressure to release naturally. Stir in the vinegar, if using. Serve immediately.
© Meredith Corporation. All rights reserved. Used with permission.
Ingredients
2 medium carrots, sliced (about ¾ cup)
2 stalks celery, diced
1 large onion, chopped (about 1 ⅓ cups)
3 garlic cloves , minced
¼ teaspoon ground pepper
¼ teaspoon salt
4 ounces ham, diced
1.75 cups dry split peas
3 cups low-sodium chicken broth
3 cups water
Splash of sherry vinegar (optional)