Main dish, vegetarian
Eggplant Tortilla Casserole
Overview
You'd never guess this comforting Tex-Mex casserole hides thinly sliced eggplant. The thin slices become tender when roasted, adding a subtle savory note. To ease prep, ingredients are added in layers to skip the fuss of rolling and stuffing individual tortillas—plus, this double-batch recipe makes one casserole for tonight and one to freeze for dinner another night.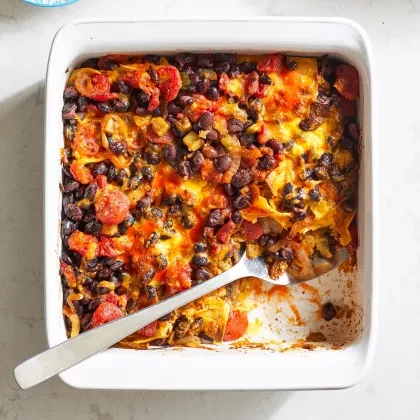 Prep time 30
Cook Time 40
Total Time 70
Nutritional Information
Calories 304kcal
Carbohydrates 41g
Fat 10g
Saturated Fat 3g
Protein 14g
Cholesterol 13mg
Dietary Fiber 10g
Potassium 488mg
Sodium 250mg
Total sugars 8g
Instructions
STEP 1 Preheat oven to 375°F. Coat a large rimmed baking sheet and two 8-inch-square baking dishes with cooking spray.
STEP 2 Peel the eggplant; slice into 1/4-inch-thick rounds. Halve the rounds (or quarter, if large). Arrange in a single layer on the prepared baking sheet; brush 1 tablespoon oil over the eggplant. Bake, turning once, until the eggplant is just beginning to brown on the edges, 10 to 15 minutes. Let cool.
STEP 3 Heat the remaining 1 tablespoon oil in a large nonstick skillet over medium-high heat. Add onions and cook, stirring, until soft, about 10 minutes. Add garlic, chili powder, oregano, onion powder, and cumin; continue cooking just until fragrant, about 30 seconds. Stir in tomatoes, beans, chiles, and cilantro. Set aside.
STEP 4 To assemble the casseroles, cover the bottom of each baking dish with 1/4 of the tortilla pieces. Spread 1 cup of the tomato-bean mixture over the tortillas, then sprinkle each with 1/4 cup cheese. Top each with a layer of 1/2 of the eggplant pieces, then layer each with 1 cup of the tomato-bean mixture. Divide the remaining tortilla pieces and remaining tomato-bean mixture between the casseroles, then sprinkle each with 1/4 cup cheese. Cover both dishes with foil. Label and freeze one casserole for up to 1 month. Bake the remaining casserole until bubbling, about 30 minutes.
STEP 5 Uncover and continue baking until the cheese is lightly browned, about 10 minutes more. Let stand for 5 minutes before cutting.
© Meredith Corporation. All rights reserved. Used with permission.
Ingredients
1 medium eggplant (about 1 pound)
2 tablespoons canola oil , divided
2 medium onions , thinly sliced
3 cloves garlic , minced
1 tablespoon chili powder
2 teaspoons dried oregano
1 teaspoon onion powder
1 teaspoon ground cumin
1 28-ounce can no-salt-added diced tomatoes
2 15-ounce cans no-salt-added black beans , rinsed
2 4.5-ounce cans mild green chiles
¼ cup chopped fresh cilantro
10 corn tortillas , quartered
1 cup shredded extra-sharp Cheddar cheese