Main dish, fish/seafood
Charred Shrimp & Pesto Buddha Bowls
Overview
These shrimp and pesto Buddha bowls are delicious, healthy, pretty and take less than 30 minutes to prep. In other words, they're basically the ultimate easy weeknight dinner. Feel free to add additional vegetables and swap the shrimp for chicken, steak, tofu or edamame.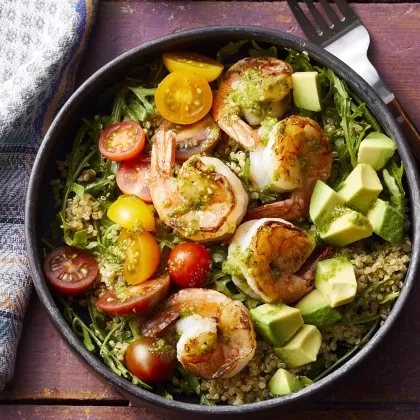 Prep time 25
Cook Time 0
Total Time 25
Nutritional Information
Calories 429kcal
Carbohydrates 29g
Fat 22g
Saturated Fat 4g
Protein 31g
Cholesterol 188mg
Dietary Fiber 7g
Potassium 901mg
Sodium 571mg
Total sugars 5g
Instructions
STEP 1 Whisk pesto, vinegar, oil, salt and pepper in a large bowl. Remove 4 tablespoons of the mixture to a small bowl; set both bowls aside.
STEP 2 Heat a large cast-iron skillet over medium-high heat. Add shrimp and cook, stirring, until just cooked through with a slight char, 4 to 5 minutes. Remove to a plate.
STEP 3 Add arugula and quinoa to the large bowl with the vinaigrette and toss to coat. Divide the arugula mixture between 4 bowls. Top with tomatoes, avocado and shrimp. Drizzle each bowl with 1 tablespoon of the reserved pesto mixture.
© Meredith Corporation. All rights reserved. Used with permission.
Ingredients
⅓ cup prepared pesto
2 tablespoons balsamic vinegar
1 tablespoon extra-virgin olive oil
½ teaspoon salt
¼ teaspoon ground pepper
1 pound peeled and deveined large shrimp (16-20 count) , patted dry
4 cups arugula
2 cups cooked quinoa
1 cup halved cherry tomatoes
1 avocado , diced