Side dish, vegetable
Air-Fryer Zucchini Fries
Overview
These crunchy, crispy zucchini fries turn very tender in the air fryer and have a delicate natural sweetness from the cooking process. The simple dipping sauce is very tomato forward, with just enough acid from the vinegar and mayonnaise to add incredible tang.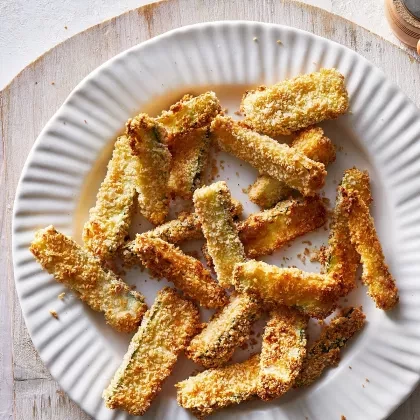 Prep time 10
Cook Time 20
Total Time 30
Nutritional Information
Calories 235kcal
Added sugars 0g
Carbohydrates 26g
Fat 12g
Saturated Fat 1g
Monounsaturated Fat 6g
Protein 6g
Cholesterol 66mg
Dietary Fiber 2g
Potassium 232mg
Sodium 232mg
Total sugars 2g
Instructions
STEP 1 Coat air-fryer basket with cooking spray. Cut zucchini into cut 24 (2-inch-long) wedges.
STEP 2 Place flour in a shallow dish. Combine eggs and water in another shallow dish. Place panko in a third shallow dish. Dredge the zucchini first in the flour, then in the egg, then in the panko, shaking off excess. Place half of the zucchini in the prepared basket. Coat well with cooking spray. Cook at 360°F until crispy and tender, about 12 minutes, turning once during cooking. Repeat with the remaining zucchini.
STEP 3 Combine mayonnaise, tomato paste, vinegar, salt and pepper in a small bowl. Whisk until smooth. Serve the dipping sauce with the zucchini.
© Meredith Corporation. All rights reserved. Used with permission.
Ingredients
Cooking spray
1 large zucchini (10 ounces)
½ cup all-purpose flour
2 eggs , lightly beaten
2 tablespoons water
1 ½ cups panko breadcrumbs
⅓ cup canola mayonnaise
2 tablespoons unsalted tomato paste
½ tablespoon red-wine vinegar
¼ teaspoon kosher salt
½ teaspoon ground pepper