Appetizer
Edamame Hummus
Overview
Creamy edamame makes a colorful base for hummus. Serve with crackers or your favorite veggies for dipping.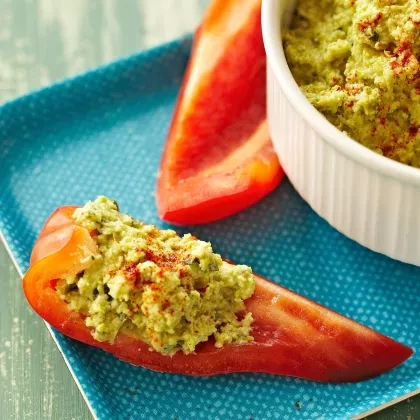 Prep time 20
Cook Time 0
Total Time 20
Nutritional Information
Calories 81kcal
Carbohydrates 5g
Fat 6g
Saturated Fat 1g
Monounsaturated Fat 3g
Protein 3g
Cholesterol 0mg
Dietary Fiber 1g
Potassium 100mg
Sodium 78mg
Total sugars 2g
Instructions
STEP 1 Cook edamame according to package directions; drain.
STEP 2 In a food processor, combine edamame, parsley, lemonjuice, water, tahini, garlic, salt and cumin. Cover and processuntil smooth. With food processor running, slowly add oil in a thinsteady stream, processing until smooth. Add additional water ifnecessary to reach desired consistency. If desired, sprinkle withpaprika. Serve with vegetable dippers.
© Meredith Corporation. All rights reserved. Used with permission.
Ingredients
1 10-ounce package frozen edamame (soybeans)
½ cup snipped fresh Italian (flat-leaf) parsley
¼ cup lemon juice
¼ cup water
1 tablespoon tahini (sesame seed paste)
3 cloves garlic, peeled and quartered
½ teaspoon salt
½ teaspoon ground cumin
⅓ cup olive oil
⅛ teaspoon paprika (optional)
8 cups assorted vegetable dippers, such as sweet pepper pieces, cucumber slices, baby carrots, snow pea pods, and/or celery sticks