Desserts, other
Carrot Cupcakes
Overview
Individual carrot cake cupcakes are a festive departure from traditional carrot cake; here, reduced-fat cream cheese and applesauce contribute to a healthier take.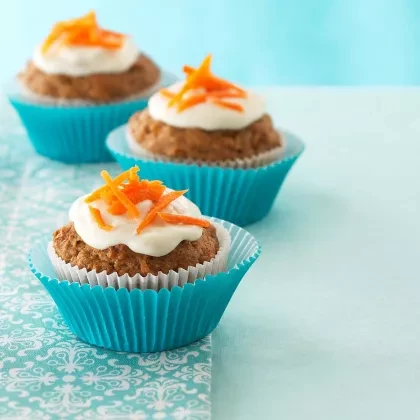 Prep time 30
Cook Time 25
Total Time 55
Nutritional Information
Calories 207kcal
Carbohydrates 30g
Fat 8g
Saturated Fat 2g
Protein 4g
Cholesterol 37mg
Dietary Fiber 2g
Potassium 149mg
Sodium 218mg
Total sugars 17g
Instructions
STEP 1 Preheat oven to 350°F. Line fifteen 2-1/2-inch muffin cups with paper bake cups. Lightly coat paper cups with cooking spray; set aside.
STEP 2 In a large bowl, stir together flours, brown sugar, baking powder, baking soda, cinnamon, salt and ginger; set aside.
STEP 3 In a medium bowl, combine eggs, carrots, applesauce and oil. Add egg mixture to flour mixture. Stir until combined. Spoon batter into the prepared muffin cups, filling each three-fourths full.
STEP 4 Bake for 18 to 20 minutes or until a toothpick inserted near centers comes out clean. Cool in muffin cups on a wire rack for 5 minutes. Remove from muffin cups. Cool completely on wire rack.
STEP 5 For frosting, in a small bowl, beat cream cheese with an electric mixer on medium speed until smooth. Add agave nectar (or honey); beat for 1 minute more. Spread frosting on cupcakes. Top each cupcake with 1 teaspoon of the finely shredded carrots or one very thin carrot strip.
© Meredith Corporation. All rights reserved. Used with permission.
Ingredients
1 cup all-purpose flour
1 cup whole-wheat flour
¾ cup packed brown sugar
1 teaspoon baking powder
1 teaspoon baking soda
¾ teaspoon ground cinnamon
¼ teaspoon salt
¼ teaspoon ground ginger
2 eggs, lightly beaten
2 cups shredded carrots (4 medium)
1 cup unsweetened applesauce
⅓ cup canola oil
6 ounces reduced-fat cream cheese (Neufchâtel)
3 tablespoons agave nectar or honey
5 tablespoons finely shredded carrot or 15 wide, very thin carrot strips