Sandwich
Cannellini Bean Burgers
Overview
These fiber-rich veggie burgers blend white kidney beans, walnuts, whole-wheat breadcrumbs, basil, onion and garlic.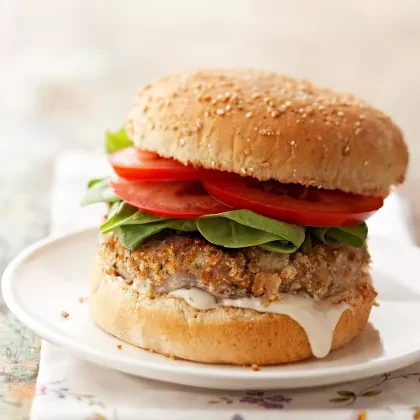 Prep time 25
Cook Time 10
Total Time 35
Nutritional Information
Calories 299kcal
Carbohydrates 44g
Fat 11g
Saturated Fat 1g
Protein 13g
Cholesterol 2mg
Dietary Fiber 9g
Sodium 497mg
Instructions
STEP 1 In a food processor, combine beans, 1/4 cup breadcrumbs, onion, walnuts, basil and garlic. Cover and process until the mixture is coarsely chopped and holds together.
STEP 2 Shape the bean mixture into four 1/2-inch-thick patties. Place the remaining 1/2 cup breadcrumbs in a shallow dish. Carefully brush both sides of each patty with oil. Dip the patties into the breadcrumbs, turning to coat.
STEP 3 Preheat a grill pan or large skillet over medium heat. Add the patties to the pan. Cook until heated through, 10 to 12 minutes, turning the patties once halfway through cooking. (Reduce heat to medium-low if the patties brown too quickly.)
STEP 4 Spread cut sides of bun bottoms with ranch dressing. Top with the burgers, spinach, tomato slices and bun tops.
© Meredith Corporation. All rights reserved. Used with permission.
Ingredients
1 15- to 16-ounce can cannellini beans (white kidney beans), rinsed and drained
¾ cup soft whole-wheat breadcrumbs (1 slice) , divided
½ cup chopped onion (1 medium)
¼ cup broken walnuts, toasted if desired
2 tablespoons coarsely snipped fresh basil or 1 teaspoon dried basil, crushed
2 cloves garlic, quartered
1 tablespoon olive oil
4 whole-grain hamburger buns, split and toasted
2 tablespoons light ranch salad dressing
2 cups fresh spinach leaves
½ medium tomato, sliced