Main dish, fish/seafood
Salmon with Broccoli Couscous
Overview
Quick-cooking salmon fillets and couscous are a match made in heaven when you need a fast weeknight dinner. This easy recipe is on the table in 20 minutes, but thanks to the fancy orange-slice topping, it looks like you spent far more time on it.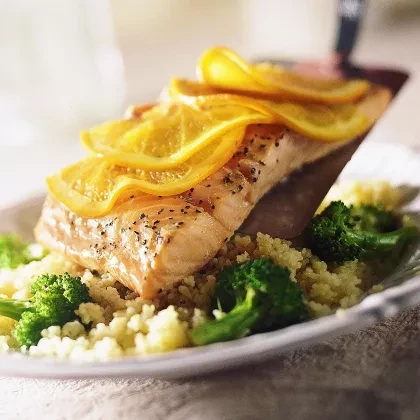 Prep time 15
Cook Time 5
Total Time 20
Nutritional Information
Calories 401kcal
Carbohydrates 41g
Fat 13g
Saturated Fat 3g
Protein 31g
Cholesterol 67mg
Dietary Fiber 7g
Sodium 457mg
Total sugars 7g
Instructions
STEP 1 Brush fish with soy sauce. Sprinkle with lemon-pepper seasoning (or pepper).
STEP 2 Preheat oven to 450°F. Place the fish in a greased 2-quart baking dish, tucking under any thin edges. Bake, uncovered, for 6 minutes. Arrange the orange slices on top of the fish. Bake until the fish flakes easily with a fork, 2 to 4 minutes more.
STEP 3 Meanwhile, combine broccoli, broth and garlic in a small saucepan. Bring just to boiling; reduce heat. Simmer, covered, about 2 minutes or until broccoli is crisp-tender. Stir in couscous. Remove from the heat. Cover and let stand for 5 minutes.
STEP 4 To serve, spoon the couscous mixture onto two serving plates. Arrange the orange-topped fish on top of the couscous mixture.
© Meredith Corporation. All rights reserved. Used with permission.
Ingredients
2 4-ounces fresh or frozen skinless salmon fillets, skinned (thawed, if necessary)
1 teaspoon reduced-sodium soy sauce
¼ teaspoon lemon-pepper seasoning or ground black pepper
1 small orange, thinly sliced
1 cup small broccoli florets
⅔ cup reduced-sodium chicken broth
1 teaspoon minced roasted garlic or minced garlic
⅓ cup whole-wheat couscous