Appetizer
Avocado-Yogurt Dip
Overview
Update your guacamole recipe by adding protein-packed yogurt to make a healthy dip recipe. For an extra kick, add minced jalapeño or your favorite hot sauce for some zing! Serve this healthy dip recipe with crunchy vegetables, pita chips or pretzels, or use as a sandwich spread.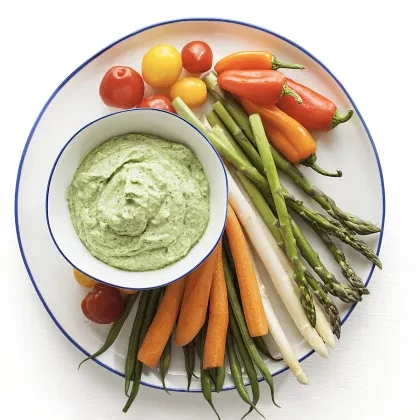 Prep time 10
Cook Time 0
Total Time 10
Nutritional Information
Calories 51kcal
Added sugars 0g
Carbohydrates 4g
Fat 4g
Saturated Fat 1g
Monounsaturated Fat 2g
Protein 1g
Cholesterol 0mg
Dietary Fiber 2g
Potassium 171mg
Sodium 87mg
Total sugars 1g
Instructions
STEP 1 Place avocado, yogurt, cilantro, onion, lime juice, salt and pepper in a food processor. Process until smooth. Season with hot sauce, if desired.
© Meredith Corporation. All rights reserved. Used with permission.
Ingredients
1 ripe avocado peeled and pitted
½ cup nonfat plain yogurt
⅓ cup packed fresh cilantro leaves
2 tablespoons chopped onion
1 tablespoon lime juice
¼ teaspoon salt
¼ teaspoon freshly ground pepper
Hot sauce to taste, optional