Main dish, fish/seafood
Air-Fryer Popcorn Shrimp
Overview
These air-fried popcorn shrimp get crispy and crunchy with very little oil. The unique flavors are inspired by Mexican fare, with a smoky, spicy dipping sauce and full-flavored shrimp coating. Look for the smallest shrimp you can find so they will cook evenly.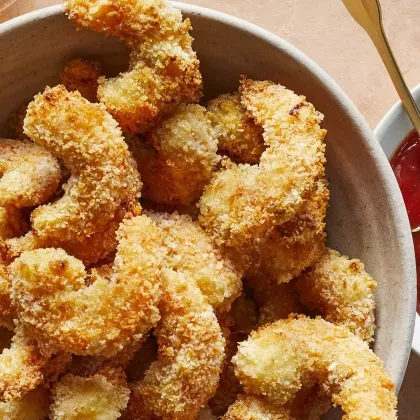 Prep time 10
Cook Time 20
Total Time 30
Nutritional Information
Calories 297kcal
Added sugars 0g
Carbohydrates 35g
Fat 4g
Saturated Fat 1g
Monounsaturated Fat 1g
Protein 29g
Cholesterol 276mg
Dietary Fiber 1g
Potassium 390mg
Sodium 291mg
Total sugars 9g
Instructions
STEP 1 Coat air fryer basket with cooking spray.
STEP 2 Place flour in a shallow dish. Combine eggs and water in another shallow dish. Combine panko, cumin and garlic powder in a third shallow dish. Dredge shrimp first in the flour, then in the egg, then in the panko, shaking off excess. Place half of the shrimp in the prepared basket; coat well with cooking spray. Cook at 360°F until crispy and cooked through, about 8 minutes, turning once during cooking. Repeat with the remaining shrimp.
STEP 3 Combine ketchup, chipotles, cilantro, lime juice and salt in a small bowl. Serve the dipping sauce with the shrimp.
© Meredith Corporation. All rights reserved. Used with permission.
Ingredients
Cooking spray
½ cup all-purpose flour
2 eggs , well beaten
2 tablespoons water
1 ½ cups panko breadcrumbs
1 tablespoon ground cumin
1 tablespoon garlic powder
1 pound small shrimp , peeled and deveined
½ cup no-salt-added ketchup
2 tablespoons chopped chipotle chiles in adobo
2 tablespoons chopped fresh cilantro
2 tablespoons lime juice
⅛ teaspoon kosher salt