Main dish, fish/seafood
20-Minute Creamy Tomato Salmon Skillet
Overview
Salmon fillets cook quickly and are coated with a delicious creamy sauce made with tomatoes, zucchini and Italian seasoning. This easy salmon dinner is sure to become a new weeknight favorite the whole family will love. The best news: you can get this meal on the table in 20 minutes flat.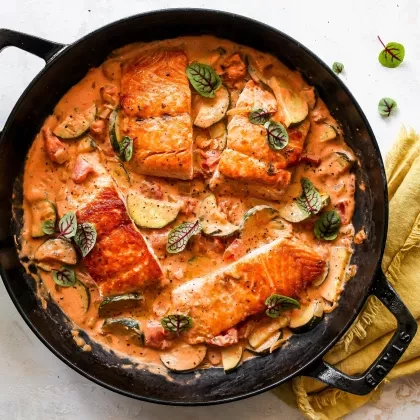 Prep time 20
Cook Time 0
Total Time 20
Nutritional Information
Calories 366kcal
Carbohydrates 10g
Fat 21g
Saturated Fat 5g
Protein 30g
Cholesterol 92mg
Dietary Fiber 2g
Potassium 1064mg
Sodium 263mg
Total sugars 5g
Instructions
STEP 1 Pat salmon dry and sprinkle with 1/8 teaspoon each salt and pepper. Heat 1 tablespoon oil in a large skillet over medium-high heat. Add the salmon and cook until the underside is browned and releases easily from the pan, 3 to 4 minutes. Flip the salmon and continue to cook until opaque in the center, another 2 to 3 minutes. Transfer to a plate.
STEP 2 Meanwhile, add the remaining 1 tablespoon oil, zucchini and onion to the pan. Cook, stirring, until starting to soften, about 3 minutes. Increase heat to medium-high and add wine. Cook, stirring, until the liquid has mostly evaporated, about 2 minutes. Add tomatoes, cream cheese, Italian seasoning, garlic powder and the remaining 1/8 teaspoon each salt and pepper. Bring to a simmer and cook, stirring, until the cream cheese is melted, 4 to 5 minutes. Return the salmon to the pan and turn to coat with the sauce. Serve topped with basil.
© Meredith Operations Corporation. All rights reserved. Used with permission.
Ingredients
1.25 pounds salmon fillet , skinned and cut into 4 portions
¼ teaspoon salt
¼ teaspoon ground pepper
2 tablespoons olive oil , divided
1 medium zucchini , halved lengthwise and thinly sliced
½ cup chopped onions
⅓ cup dry white wine
1 15-ounce can no-salt-added diced tomatoes, drained
2 ounces cream cheese , cut into cubes
1 teaspoon Italian seasoning
½ teaspoon garlic powder
¼ cup fresh basil