Main dish, fish/seafood
Sesame Tuna Salad
Overview
Toasted sesame oil transforms a humble staple like canned tuna into an elegant supper. We love the crunch of napa cabbage in this salad, but romaine lettuce would also work if you happen to have that on hand.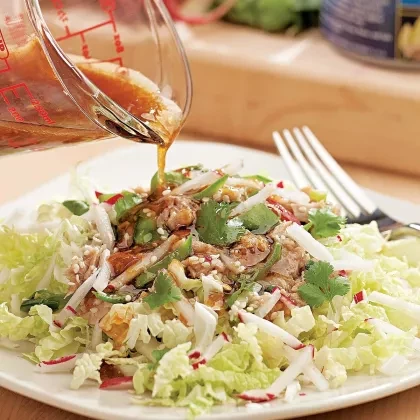 Prep time 25
Cook Time 0
Total Time 25
Nutritional Information
Calories 228kcal
Added sugars 2g
Carbohydrates 9g
Fat 16g
Saturated Fat 2g
Monounsaturated Fat 9g
Protein 14g
Cholesterol 12mg
Dietary Fiber 3g
Potassium 200mg
Sodium 353mg
Total sugars 4g
Instructions
STEP 1 Whisk vinegar (or lemon juice), canola oil, soy sauce, sesame oil, sugar and ginger in a small bowl.
STEP 2 Combine 3 tablespoons of the dressing with tuna, peas and scallions in a medium bowl.
STEP 3 Divide cabbage among 4 plates. Mound one-fourth of the tuna mixture (about 1/2 cup) in the center of each plate and garnish with radishes, cilantro and sesame seeds. Drizzle with the remaining dressing (about 2 tablespoons per salad) and season with pepper.
© Meredith Corporation. All rights reserved. Used with permission.
Ingredients
¼ cup rice vinegar or lemon juice
3 tablespoons canola oil
2 tablespoons reduced-sodium soy sauce
1 tablespoon toasted sesame oil
1 ½ teaspoons sugar
1 ½ teaspoons minced fresh ginger
2 5- to 6-ounce cans water-packed chunk light tuna , drained
1 cup sliced sugar snap peas or snow peas
2 scallions , sliced
6 cups thinly sliced napa cabbage
4 radishes , julienne-cut or sliced
¼ cup fresh cilantro leaves
1 tablespoon sesame seeds
Freshly ground pepper to taste