Baked Goods, quick breads & muffins
Orange-Date Pumpkin Muffins
Overview
A whole orange pulverized in the food processor gives these nutrient-rich date-pumpkin muffins a wonderful intense flavor.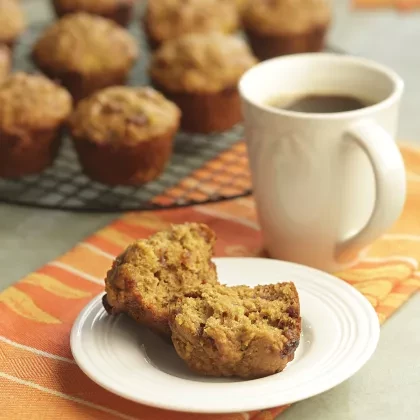 Prep time 30
Cook Time 45
Total Time 75
Nutritional Information
Makes: 12 Servings
Serving size: 1 muffin
Calories 226kcal
Added sugars 15g
Carbohydrates 42g
Fat 6g
Saturated Fat 1g
Monounsaturated Fat 3g
Protein 5g
Cholesterol 16mg
Dietary Fiber 3g
Potassium 207mg
Sodium 283mg
Total sugars 22g
Instructions
STEP 1 Preheat oven to 400°F. Coat 12 standard 2 1/2-inch muffin cups with cooking spray.
STEP 2 Whisk whole-wheat flour, all-purpose flour, baking powder, baking soda, salt and cinnamon in a large bowl.
STEP 3 Puree orange sections in a food processor. Add egg, egg white, pumpkin, sugar (or Splenda), honey and oil; process until mixed. Make a well in the center of the dry ingredients; add the wet ingredients and dates, and stir with a rubber spatula until just combined. Scoop the batter into the prepared pan and sprinkle with nuts.
STEP 4 Bake the muffins until the tops spring back when touched lightly, 18 to 20 minutes. Let cool in the pan for 5 minutes. Loosen the edges and turn the muffins out onto a wire rack to cool slightly before serving.
© Meredith Corporation. All rights reserved. Used with permission.
Ingredients
1 cup whole-wheat flour
1 cup all-purpose flour
2 teaspoons baking powder
1 teaspoon baking soda
½ teaspoon salt
½ teaspoon ground cinnamon
1 large seedless orange , scrubbed and cut into 8 sections (peel left on)
1 large egg
1 large egg white
⅓ cup canned unseasoned pumpkin puree
½ cup packed light brown sugar or ¼ cup Splenda Sugar Blend for Baking
¼ cup honey
3 tablespoons canola oil
¾ cup chopped pitted dates
3 tablespoons chopped walnuts or pecans