Main dish, combination meal
Creamy Fettuccine with Brussels Sprouts & Mushrooms
Overview
Sliced Brussels sprouts and mushrooms cook quickly and cling to the pasta in our fall version of pasta primavera. Look for presliced mushrooms to cut prep time. Serve with a tossed salad.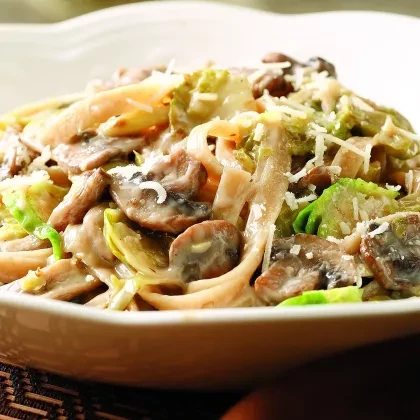 Prep time 30
Cook Time 0
Total Time 30
Nutritional Information
Makes: 6 Servings
Serving size: about 1 1/3 cups
Calories 385kcal
Added sugars 0g
Carbohydrates 56g
Fat 10g
Saturated Fat 4g
Monounsaturated Fat 2g
Protein 19g
Cholesterol 22mg
Dietary Fiber 10g
Potassium 467mg
Sodium 438mg
Instructions
STEP 1 Cook pasta in a large pot of boiling water until tender, 8 to 10 minutes. Drain, return to the pot and set aside.
STEP 2 Meanwhile, heat oil in a large skillet over medium heat. Add mushrooms and Brussels sprouts and cook, stirring often, until the mushrooms release their liquid, 8 to 10 minutes. Add garlic and cook, stirring, until fragrant, about 1 minute. Add sherry (or vinegar), scraping up any brown bits; bring to a boil and cook, stirring, until almost evaporated, 10 seconds (if using vinegar) or about 1 minute (if using sherry).
STEP 3 Whisk milk and flour in a bowl; add to the skillet with salt and pepper. Cook, stirring, until the sauce bubbles and thickens, about 2 minutes. Stir in Asiago until melted. Add the sauce to the pasta; gently toss. Serve with more cheese, if desired.
© Meredith Corporation. All rights reserved. Used with permission.
Ingredients
12 ounces whole-wheat fettuccine
1 tablespoon extra-virgin olive oil
4 cups sliced mixed mushrooms , such as cremini, oyster and/or shiitake
4 cups thinly sliced Brussels sprouts
1 tablespoon minced garlic
½ cup dry sherry or 2 tablespoons sherry vinegar
2 cups low-fat milk
2 tablespoons all-purpose flour
½ teaspoon salt
½ teaspoon freshly ground pepper
1 cup finely shredded Asiago cheese , plus more for garnish