Main dish, fish/seafood
Black Bean & Salmon Tostadas
Overview
Pickled jalapeños, cilantro and avocado perk up convenient canned salmon for a quick tostada topping. Skip store-bought and make your own crispy shells in the oven. Serve with: Brown rice cooked with diced tomatoes and onions or salsa.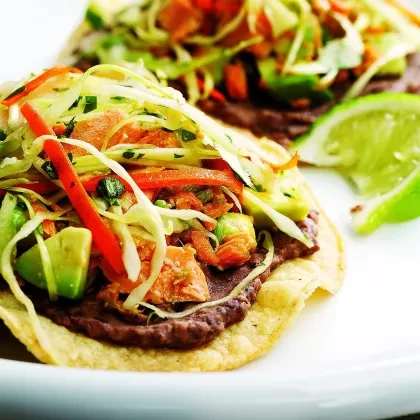 Prep time 25
Cook Time 0
Total Time 25
Nutritional Information
Makes: 4 Servings
Serving size: 2 tostadas
Calories 319kcal
Added sugars 0g
Carbohydrates 43g
Fat 11g
Saturated Fat 2g
Monounsaturated Fat 6g
Protein 16g
Cholesterol 16mg
Dietary Fiber 12g
Potassium 670mg
Sodium 352mg
Total sugars 6g
Instructions
STEP 1 Position racks in upper and lower thirds of the oven; preheat to 375°F.
STEP 2 Coat tortillas on both sides with cooking spray. Place on 2 baking sheets. Bake, turning once, until light brown, 12 to 14 minutes.
STEP 3 Combine salmon, avocado and jalapeños in a bowl. Combine cabbage, cilantro and the pickling juice in another bowl. Process black beans, sour cream, salsa and scallions in a food processor until smooth. Transfer to a microwave-safe bowl. Cover and microwave on High until hot, about 2 minutes.
STEP 4 To assemble tostadas, spread each tortilla with some bean mixture and some salmon mixture and top with the cabbage salad. Serve with lime wedges, if desired.
© Meredith Corporation. All rights reserved. Used with permission.
Ingredients
8 6-inch corn tortillas
Canola oil cooking spray
1 6- to 7-ounce can boneless, skinless wild Alaskan salmon , drained
1 avocado , diced
2 tablespoons minced pickled jalapeños, plus 2 tablespoons pickling juice from the jar , divided
2 cups coleslaw mix or shredded cabbage
2 tablespoons chopped cilantro
1 15-ounce can black beans, rinsed
3 tablespoons reduced-fat sour cream
2 tablespoons prepared salsa
2 scallions , chopped
Lime wedges (optional)