Coenzyme Q10 (CoQ10) levels are

depleted by cholesterol-lowering medications
Use of

certain 

cholesterol-lowering medication is increasing over time1
Nine out of 10 adults using a cholesterol-lowering medication take a statin1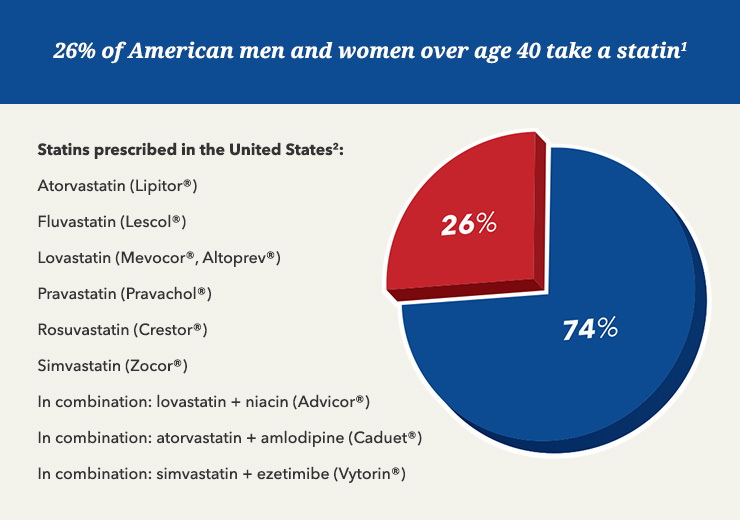 Cholesterol-lowering statins can significantly lower the amount of CoQ10 (ubiquinone) in the blood3-6
Statins can lower the amount of CoQ10 in the body

,

 even when a patient has taken a standard dose for as few as 

3

 months

3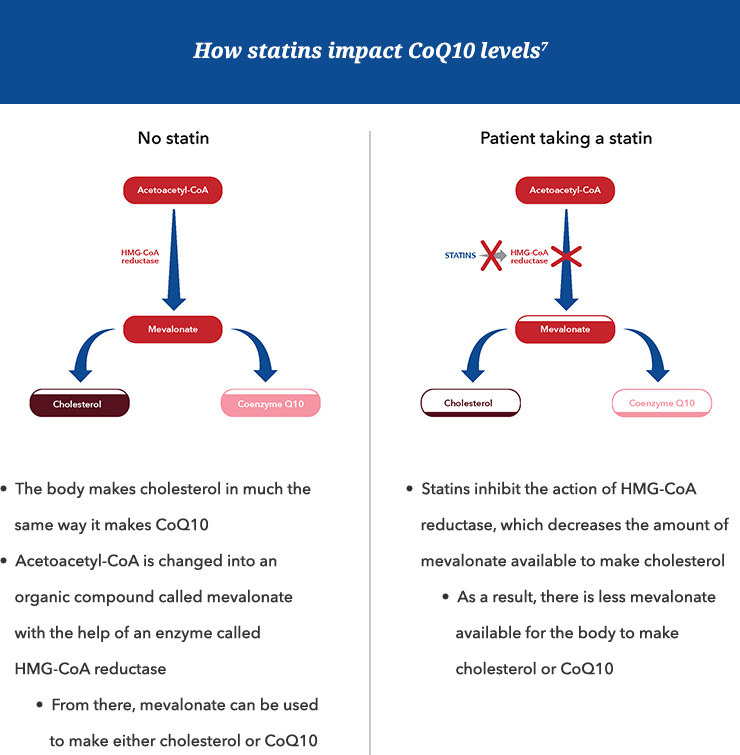 A 

side effect of

 statin administration

is depletion of CoQ10, which can lead to muscle-related adverse reactions

7 
Daily Ubiquinol supplementation effectively restores CoQ10 levels which can help support muscle health during statin use.7,8
In patients with chronic heart failure, adding Ubiquinol to statin therapy can elevate reduced CoQ10 levels, which can support skeletal and cardiac muscle health9
"…there is a strong case for considering co-administration of ubiquinol with statin therapy in patients with depressed or borderline myocardial function."

"…we believe that the co-administration of 300 mg ubiquinol with the combination ezetimibe/statin should be the preferred initial therapeutic option for LDL-lowering in patients with heart failure and hypercholesterolaemia, especially in those with high oxidative stress and coronary artery disease."

—Kloer H-U, Belardinelli R, Ou R, Rosenfeldt F. Combining ubiquinol with a statin may benefit hypercholesterolaemic patients with chronic heart failure. Heart Lung Circ. 2020;29(2):188-195.
Replenish the CoQ10 levels depleted by statins with Ubiquinol
Ubiquinol can replenish CoQ10 in patients taking statins

7,8

 

Ubiquinol is more readily absorbed in the body and is more bioavailable than conventional CoQ10

10

Ubiquinol is the only form of CoQ10 that functions as an antioxidant

11