Beverages, smoothies
Pineapple Green Smoothie
Overview
Use ripe bananas for this creamy Greek yogurt, spinach and pineapple smoothie. Chia seeds add healthy omega-3 fats, fiber and a little protein for an extra nutritional boost.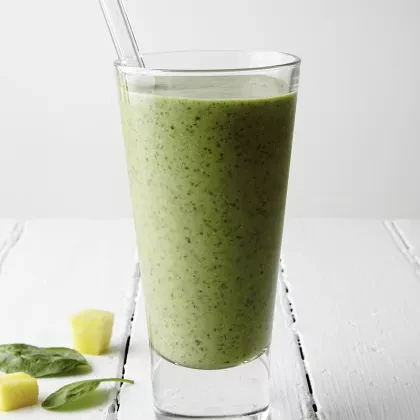 Prep time 5
Cook Time 0
Total Time 5
Nutritional Information
Makes: 1 Servings
Serving size: about 1 1/2 cups
Calories 297kcal
Added sugars 0g
Carbohydrates 54g
Fat 6g
Saturated Fat 1g
Monounsaturated Fat 0g
Protein 13g
Cholesterol 4mg
Dietary Fiber 10g
Potassium 1038mg
Sodium 145mg
Total sugars 29g
Instructions
STEP 1 Add almond milk and yogurt to a blender, then add spinach, banana, pineapple, chia and sweetener (if using); blend until smooth.
© Meredith Corporation. All rights reserved. Used with permission.
Ingredients
½ cup unsweetened almond milk
⅔ cup nonfat plain Greek yogurt
1 cup baby spinach
1 cup frozen banana slices (about 1 medium banana)
½ cup frozen pineapple chunks
1 tablespoon chia seeds
1-2 teaspoons pure maple syrup or honey (optional)