Side dish, vegetable
Creamy Chopped Cauliflower Salad
Overview
Caraway and cauliflower are a match that brings to mind wursts, kraut. Alas, not everyone loves that caraway flavor so leave out the caraway seeds if you prefer—the salad's wonderful either way.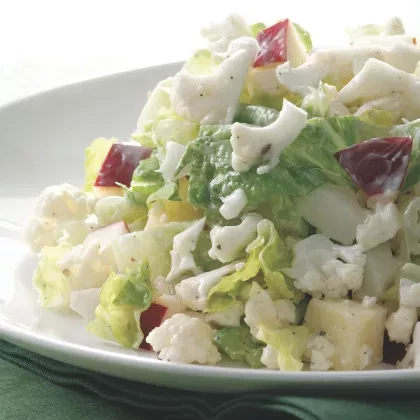 Prep time 15
Cook Time 0
Total Time 15
Nutritional Information
Makes: 6 Servings
Serving size: about 1 cup
Calories 48kcal
Added sugars 0g
Carbohydrates 10g
Fat 1g
Saturated Fat 0g
Monounsaturated Fat 0g
Protein 1g
Cholesterol 0mg
Dietary Fiber 2g
Potassium 255mg
Sodium 127mg
Instructions
STEP 1 Whisk mayonnaise, vinegar, shallot, caraway seeds (if using) and pepper in a large bowl until smooth. Add cauliflower, romaine and apple; toss to coat.
© Meredith Corporation. All rights reserved. Used with permission.
Ingredients
5 tablespoons reduced-fat mayonnaise
2 tablespoons cider vinegar
1 small shallot , finely chopped
½ teaspoon caraway seeds (optional)
¼ teaspoon freshly ground pepper
3 cups chopped cauliflower florets (about ½ large head)
2 cups chopped heart of romaine
1 tart-sweet red apple , chopped