Desserts, frozen
Frozen Pumpkin Mousse Pie
Overview
While pumpkin pie deserves respect as a Thanksgiving icon, it's fun to shake up tradition. Surprise your family and friends with a frozen pie this year—it just might become one of their holiday favorites. No need to let them know how easy it is.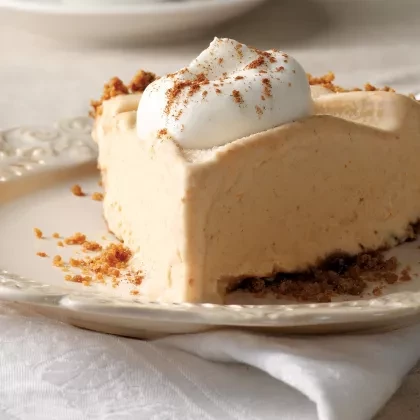 Prep time 20
Cook Time 120
Total Time 140
Nutritional Information
Calories 231kcal
Added sugars 26g
Carbohydrates 42g
Fat 5g
Saturated Fat 1g
Monounsaturated Fat 2g
Protein 4g
Cholesterol 4mg
Dietary Fiber 2g
Potassium 149mg
Sodium 158mg
Total sugars 28g
Instructions
STEP 1 Preheat oven to 350°F. Coat a 9-inch deep-dish pie pan with cooking spray.
STEP 2 To prepare crust: Combine gingersnaps and raisins in a food processor and pulse until finely chopped. Add oil and pulse until blended. Press evenly into the bottom and up the sides of the prepared pan.
STEP 3 Bake the crust until set, about 10 minutes. Transfer to a wire rack to cool completely.
STEP 4 To prepare filling: Combine pumpkin, sugar, cinnamon, ginger and nutmeg in a large bowl and mix well. Add ice cream and stir until blended. Spoon the mixture into the cooled pie crust. Freeze until firm, at least 2 hours. Let the pie soften slightly in the refrigerator for 20 to 30 minutes before serving.
© Meredith Corporation. All rights reserved. Used with permission.
Ingredients
30 small gingersnap cookies (about 7 ½ ounces)
2 tablespoons raisins
1 tablespoon canola oil
1 cup canned pumpkin puree
⅓ cup packed brown sugar
½ teaspoon ground cinnamon
¼ teaspoon ground ginger
¼ teaspoon freshly grated nutmeg
2 pints (4 cups) frozen low-fat vanilla ice cream , softened