Main dish, vegetarian
Cranberry Pancakes
Overview
Start your day off right with these easy pancakes, packed with cranberry's sour spike. One of you can make the coffee and heat the maple syrup while the other makes the pancakes. It's instant relationship bliss.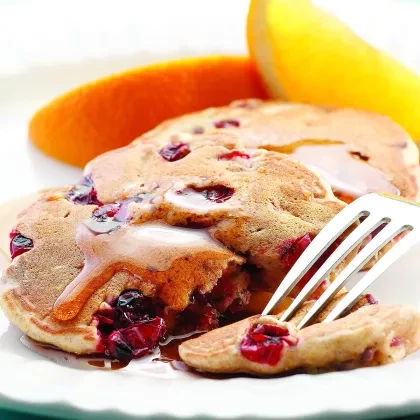 Prep time 20
Cook Time 0
Total Time 20
Nutritional Information
Makes: 2 Servings
Serving size: 2 pancakes
Calories 201kcal
Added sugars 6g
Carbohydrates 34g
Fat 5g
Saturated Fat 1g
Monounsaturated Fat 1g
Protein 7g
Cholesterol 1mg
Dietary Fiber 3g
Potassium 209mg
Sodium 317mg
Total sugars 10g
Instructions
STEP 1 Bring 2 inches of water to a boil in a small saucepan. Add cranberries; boil for 2 minutes. Drain and cool for 5 minutes.
STEP 2 Meanwhile, whisk all-purpose flour, whole-wheat flour, cornmeal, sugar, baking powder, salt and nutmeg (if using) in a large bowl.
STEP 3 Whisk milk, egg substitute, oil and vanilla (if using) in a small bowl until combined.
STEP 4 Coarsely chop the cranberries; stir into the milk mixture. Stir the milk mixture into the dry ingredients just until combined.
STEP 5 Coat a griddle or large nonstick skillet with cooking spray; heat over medium heat. Using 1/4 cup of batter for each pancake, cook 2 pancakes at a time until bubbles dot the surface, 2 to 3 minutes. Flip and continue cooking until browned, 1 to 2 minutes more. Repeat with the remaining batter.
© Meredith Corporation. All rights reserved. Used with permission.
Ingredients
½ cup fresh cranberries
¼ cup all-purpose flour
2 tablespoons plus 2 teaspoons whole-wheat flour
1 tablespoon yellow cornmeal
1 tablespoon sugar
½ teaspoon baking powder
⅛ teaspoon salt
⅛ teaspoon ground nutmeg or ¼ teaspoon vanilla extract
6 tablespoons nonfat milk
2 tablespoons pasteurized egg substitute , such as Egg Beaters
1 ½ teaspoons walnut or canola oil