Soups/stews
Chicken Chili Verde
Overview
Prepared salsa verde adds tang to this fast weeknight chili recipe and pairs beautifully with the rich caramelized chicken and creamy beans. Don't shy away from the poblano peppers. They offer a mild heat but deliver a depth of flavor you can't find in regular green bell peppers.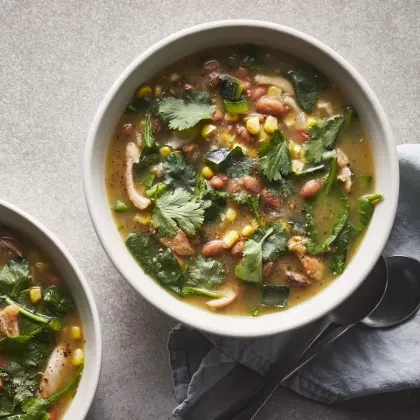 Prep time 30
Cook Time 0
Total Time 30
Nutritional Information
Calories 407kcal
Carbohydrates 40g
Fat 14g
Saturated Fat 4g
Protein 32g
Cholesterol 81mg
Dietary Fiber 9g
Potassium 869mg
Sodium 570mg
Total sugars 9g
Instructions
STEP 1 Mash 1 cup beans in a small bowl with a whisk or potato masher.
STEP 2 Heat oil in a large heavy pot over high heat. Add chicken; cook until browned, turning occasionally, 4 to 5 minutes. Add onion, poblanos and garlic. Cook until the onion is translucent and tender, 4 to 5 minutes.
STEP 3 Add the remaining whole beans, the mashed beans, stock, salsa and salt. Bring to a boil. Reduce heat to medium and simmer until the chicken is cooked through, about 3 minutes. Stir in corn, spinach and cilantro. Cook until the spinach is wilted, about 1 minute. Serve topped with sour cream.
© Meredith Operations Corporation. All rights reserved. Used with permission.
Ingredients
2 15-ounce cans no-salt-added pinto beans, rinsed , divided
1 tablespoon canola oil
1 ½ pounds boneless, skinless chicken thighs , trimmed and cut into bite-size pieces
2 cups chopped yellow onion (1 medium)
2 cups chopped poblano peppers (2 large)
5 cloves garlic , chopped (about 1 ½ tablespoons)
4 cups unsalted chicken stock
1 ½ cups prepared salsa verde
½ teaspoon salt
2 cups frozen corn kernels (about 12 ounces)
2 cups chopped spinach (about 2 ounces)
1 ½ cups coarsely chopped fresh cilantro
6 tablespoons sour cream