Appetizer
Artichoke & Parmesan Stuffed Mushrooms
Overview
For this healthy stuffed mushroom recipe, marinated artichokes and Parmesan cheese are mixed with thyme and panko breadcrumbs for a delicious filling. If serving at a party, you might consider doubling the recipe. These stuffed mushrooms will be devoured quickly!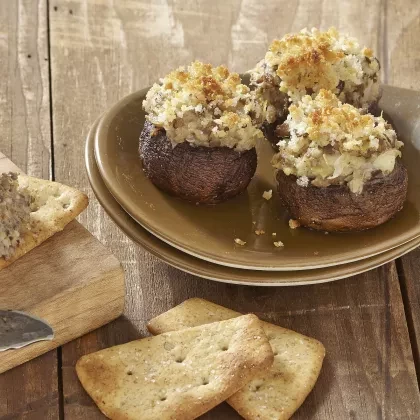 Prep time 25
Cook Time 20
Total Time 45
Nutritional Information
Calories 66kcal
Added sugars 0g
Carbohydrates 6g
Fat 4g
Saturated Fat 1g
Monounsaturated Fat 2g
Protein 2g
Cholesterol 2mg
Dietary Fiber 1g
Potassium 304mg
Sodium 159mg
Total sugars 1g
Instructions
STEP 1 Position rack in upper third of oven; preheat broiler to low. Coat a 9-by-13-inch metal baking pan with cooking spray.
STEP 2 Remove and finely chop mushroom stems. Heat 1 teaspoon oil in a medium skillet over medium heat. Add the stems, shallot and garlic and cook, stirring, until the liquid is evaporated, about 5 minutes. Transfer to a bowl and stir in artichoke hearts, 2 tablespoons breadcrumbs, Parmesan, mayonnaise and thyme.
STEP 3 Toss the mushroom caps in another bowl with 2 teaspoons oil, salt and pepper. Stuff each with filling and place in the prepared pan. Combine the remaining 1 tablespoon breadcrumbs and 1 teaspoon oil and sprinkle on the mushrooms.
STEP 4 Broil on the upper rack until the mushrooms are soft and the breadcrumbs are golden, 15 to 20 minutes.
© Meredith Corporation. All rights reserved. Used with permission.
Ingredients
24 medium cremini (baby bella) or white mushrooms
4 teaspoons extra-virgin olive oil , divided
2 tablespoons minced shallot
2 cloves garlic , minced
½ cup drained marinated artichoke hearts , chopped
3 tablespoons panko breadcrumbs , divided
2 tablespoons grated Parmesan cheese
2 tablespoons low-fat mayonnaise
⅛ teaspoon dried thyme
¼ teaspoon salt
¼ teaspoon ground pepper