Desserts, chocolate
Warm Chocolate Pudding
Overview
This warm pudding has a marvelous deep chocolaty flavor, but it's low in fat and super-quick to make. Don't skimp on the quality of cocoa with this one—treat yourself to the good stuff.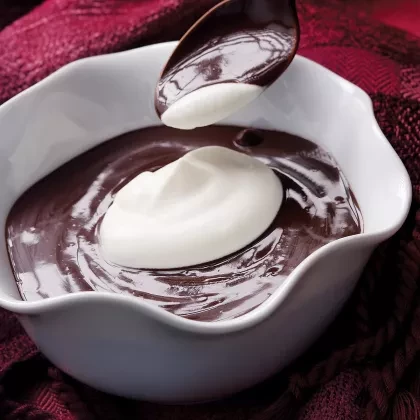 Prep time 20
Cook Time 0
Total Time 20
Nutritional Information
Calories 165kcal
Added sugars 22g
Carbohydrates 35g
Fat 2g
Saturated Fat 1g
Monounsaturated Fat 1g
Protein 6g
Cholesterol 37mg
Dietary Fiber 3g
Potassium 311mg
Sodium 110mg
Instructions
STEP 1 Lightly beat egg with a fork in a medium bowl.
STEP 2 Combine 1 1/2 cups milk, 1/3 cup sugar and salt in a medium saucepan; bring to a simmer over medium heat, stirring occasionally.
STEP 3 Meanwhile, whisk the remaining 1/3 cup sugar, cocoa and cornstarch in a medium bowl. Whisk in the remaining 3/4 cup milk until blended. Whisk the simmering milk mixture into the cocoa mixture. Pour the mixture back into the pan and bring to a simmer over medium heat, whisking constantly, until thickened and glossy, about 3 minutes. Remove from heat.
STEP 4 Whisk about 1 cup of the hot cocoa mixture into the beaten egg. Return the egg mixture to the pan and cook over medium-low heat, whisking constantly, until steaming and thickened, about 2 minutes. (Do not boil.) Whisk in vanilla. Serve warm.
© Meredith Corporation. All rights reserved. Used with permission.
Ingredients
1 large egg
2 ¼ cups nonfat or low-fat milk , divided
⅓ cup sugar , divided
⅛ teaspoon salt
⅓ cup unsweetened cocoa powder
2 tablespoons cornstarch
1 teaspoon vanilla extract