Main dish, vegetarian
Vegan Smoothie Bowl
Overview
Eat this thick and creamy smoothie bowl with a spoon! Banana and frozen berries whip together with a little nut milk for a toppable vegan breakfast. We use fruit, nuts and seeds for topping, but feel free to experiment with whatever you like.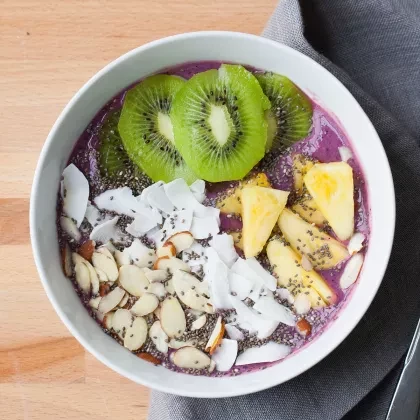 Prep time 10
Cook Time 0
Total Time 10
Nutritional Information
Calories 338kcal
Added sugars 0g
Carbohydrates 64g
Fat 10g
Saturated Fat 3g
Monounsaturated Fat 2g
Protein 9g
Cholesterol 0mg
Dietary Fiber 12g
Potassium 940mg
Sodium 46mg
Total sugars 36g
Instructions
STEP 1 Combine banana, berries and soymilk (or almond milk) in a blender. Blend until smooth.
STEP 2 Pour the smoothie into a bowl and top with pineapple, kiwi, almonds, coconut and chia seeds.
© Meredith Corporation. All rights reserved. Used with permission.
Ingredients
1 large banana
1 cup frozen mixed berries
½ cup unsweetened soymilk or unsweetened almond milk
¼ cup pineapple chunks
½ kiwi , sliced
1 tablespoon sliced almonds , toasted if desired
1 tablespoon unsweetened coconut flakes , toasted if desired
1 teaspoon chia seeds