Main dish, meat
Tomato-Herbed Steak
Overview
This steak with fresh tomato sauce is quick to prepare making it perfect for a weeknight dinner. For the juiciest steak, look for beef cuts with a small to moderate amount of marbling (flecks of fat in the meat) but only a small amount of fat on the edge.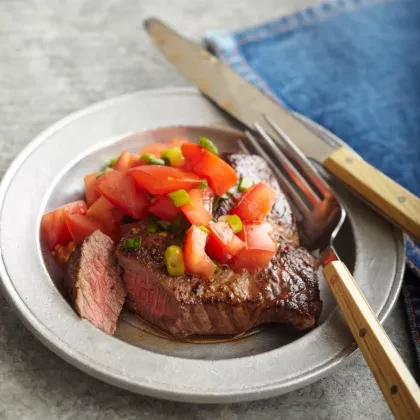 Prep time 30
Cook Time 0
Total Time 30
Nutritional Information
Calories 170kcal
Carbohydrates 3g
Fat 6g
Saturated Fat 2g
Protein 25g
Cholesterol 66mg
Dietary Fiber 1g
Sodium 207mg
Instructions
STEP 1 Cut steak in half. Sprinkle steak with salt and pepper. Coat an unheated heavy medium skillet with nonstick cooking spray. Preheat skillet over medium-high heat. Add steaks; reduce heat to medium. Cook until desired doneness. Allow 10 to 13 minutes for medium-rare doneness (145°F) to medium doneness (160°F), turning once halfway through cooking time. Remove steaks from skillet and keep warm.
STEP 2 Add green onions and basil to hot skillet. Cook and stir about 2 minutes or until green onions are tender. Stir in tomato; heat through. Serve tomato mixture over steaks.
© Meredith Corporation. All rights reserved. Used with permission.
Ingredients
1 8-ounce beef top loin steak , cut ¾-inch thick
⅛ teaspoon salt
⅛ teaspoon black pepper
¼ cup sliced green onions
1 teaspoon snipped fresh basil or ½ teaspoon dried basil , crushed
½ cup chopped tomato