Main dish, poultry
Tabbouleh with Pan-Seared Chicken
Overview
Tabbouleh is a Lebanese dish that relies on plenty of fresh parsley and just a hint of mint. Here, we add pan-seared chicken to transform this tabbouleh recipe into a heartier meal. To speed dinner prep, prepare the bulgur a day ahead, then combine with the chicken and lemon dressing just before serving.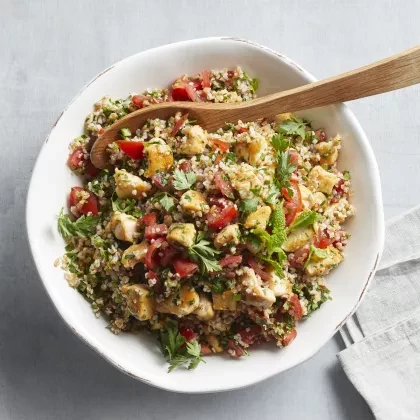 Prep time 40
Cook Time 0
Total Time 40
Nutritional Information
Calories 312kcal
Carbohydrates 25g
Fat 16g
Saturated Fat 3g
Monounsaturated Fat 11g
Protein 20g
Cholesterol 42mg
Dietary Fiber 5g
Potassium 619mg
Sodium 449mg
Total sugars 3g
Instructions
STEP 1 Combine bulgur and water in a medium saucepan. Bring to a simmer. Cover and cook on low heat until tender, 10 to 12 minutes. Drain and rinse under cold water. Transfer to a large bowl.
STEP 2 Meanwhile, heat 2 tablespoons oil in a large skillet over medium-high heat. Add chicken, garlic powder, and 1/2 teaspoon salt. Cook, stirring occasionally, until the chicken is cooked through and just browned, 6 minutes. Let cool slightly.
STEP 3 Add the chicken and any juices from the skillet to the bowl with the bulgur. Add tomatoes, scallions, parsley, and mint; stir to combine. Whisk lemon juice and the remaining 4 tablespoons oil and 1/2 teaspoon salt in a small bowl. Add to the bulgur mixture and stir to combine.
© Meredith Operations Corporation. All rights reserved. Used with permission.
Ingredients
1 cup medium bulgur
1 ½ cups water
6 tablespoons olive oil , divided
1 pound boneless, skinless chicken breast , cut into ½-inch pieces
½ teaspoon garlic powder
1 teaspoon salt , divided
2 large tomatoes , seeded and chopped
2 scallions , finely chopped
2 cups chopped fresh flat-leaf parsley (about 2 large bunches)
½ cup chopped fresh mint
4 tablespoons lemon juice