Desserts, fruit
Strawberry-Mango Nice Cream
Overview
This creamy strawberry-mango nice cream is a delicious healthy ice cream alternative. It's all fruit, dairy-free, vegan and contains no added sugar. And this three-ingredient dessert is super-fast and easy to prep. Serve it as a snack or light dessert on the hottest days of the summer—or any time you want a refreshing treat.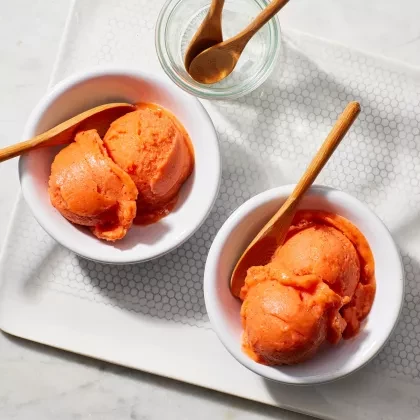 Prep time 5
Cook Time 0
Total Time 5
Nutritional Information
Calories 70kcal
Carbohydrates 17g
Fat 1g
Saturated Fat 0g
Protein 1g
Dietary Fiber 3g
Potassium 234mg
Sodium 2mg
Total sugars 14g
Instructions
STEP 1 Place mango, strawberries and lime juice in a food processor; process for 1 to 2 minutes. Stop the processor and scrape down the sides. Continue processing until smooth, an additional 2 to 3 minutes, adding up to 1/2 cup water to help process the fruit, if necessary.
© Meredith Corporation. All rights reserved. Used with permission.
Ingredients
12 ounces frozen mango chunks
8 ounces frozen sliced strawberries
1 tablespoon lime juice