Main dish, poultry
Skillet Lemon Chicken & Potatoes with Kale
Overview
This easy one-pan skillet-roasted lemon chicken is perfect for weeknight dinners. Juicy chicken thighs are cooked in the same pan as baby potatoes and kale for a satisfying meal with the added bonus of minimal cleanup.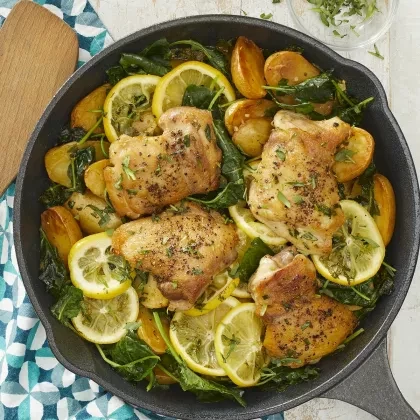 Prep time 30
Cook Time 20
Total Time 50
Nutritional Information
Calories 373kcal
Carbohydrates 26g
Fat 19g
Saturated Fat 4g
Monounsaturated Fat 11g
Protein 25g
Cholesterol 76mg
Dietary Fiber 3g
Potassium 677mg
Sodium 378mg
Total sugars 2g
Instructions
STEP 1 Preheat oven to 400°F.
STEP 2 Heat 1 tablespoon oil in a large cast-iron skillet over medium-high heat. Sprinkle chicken with 1/4 teaspoon each salt and pepper. Cook, turning once, until browned on both sides, about 5 minutes total. Transfer to a plate.
STEP 3 Add the remaining 2 tablespoons oil, potatoes and the remaining 1/4 teaspoon each salt and pepper to the pan. Cook the potatoes, cut-side down, until browned, about 3 minutes. Stir in broth, lemon, garlic and tarragon. Return the chicken to the pan.
STEP 4 Transfer the pan to the oven. Roast until the chicken is cooked through and the potatoes are tender, about 15 minutes. Stir kale into the mixture and roast until it has wilted, 3 to 4 minutes.
© Meredith Operations Corporation. All rights reserved. Used with permission.
Ingredients
3 tablespoons extra-virgin olive oil , divided
1 pound boneless, skinless chicken thighs , trimmed
½ teaspoon salt , divided
½ teaspoon ground pepper , divided
1 pound baby Yukon Gold potatoes , halved lengthwise
½ cup low-sodium chicken broth
1 large lemon , sliced and seeds removed
4 cloves garlic , minced
1 tablespoon chopped fresh tarragon
6 cups baby kale