Main dish, fish/seafood
Salmon with Curried Yogurt & Cucumber Salad
Overview
Three ingredients you probably already have on hand—curry powder, yogurt and lemon juice—meld into a mouthwatering sauce that transforms simple grilled salmon. This healthy and easy dinner recipe comes together in just 20 minutes.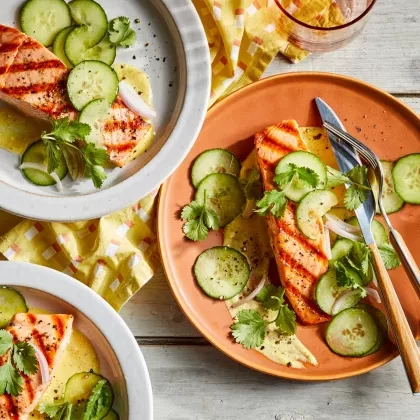 Prep time 20
Cook Time 0
Total Time 20
Nutritional Information
Calories 258kcal
Carbohydrates 4g
Fat 13g
Saturated Fat 3g
Protein 30g
Cholesterol 68mg
Dietary Fiber 0g
Potassium 650mg
Sodium 383mg
Total sugars 3g
Instructions
STEP 1 Preheat grill to medium-high.
STEP 2 Brush salmon with 1 tablespoon oil and sprinkle with 1/4 teaspoon each salt and pepper. Oil the grill rack. Grill the salmon, turning once, until just cooked through, about 6 minutes.
STEP 3 Meanwhile, combine cucumber, cilantro and shallot with the remaining 1 tablespoon oil and 1/8 teaspoon each salt and pepper in a medium bowl. Whisk yogurt, lemon juice, curry powder and the remaining 1/8 teaspoon each salt and pepper in a small bowl.
STEP 4 Serve the salmon with the yogurt sauce and the cucumber salad.
© Meredith Corporation. All rights reserved. Used with permission.
Ingredients
1.25 pounds salmon fillet , cut into 4 portions
2 tablespoons extra-virgin olive oil , divided
½ teaspoon salt , divided
½ teaspoon ground pepper , divided
½ cup sliced cucumber
2 tablespoons chopped fresh cilantro
2 tablespoons minced shallot
½ cup low-fat plain yogurt
2 tablespoons lemon juice
¼ teaspoon curry powder