Snack
Protein Power Snack
Overview
For a protein-packed snack to keep you feeling full, grab a hard-boiled egg and fun-to-eat edamame.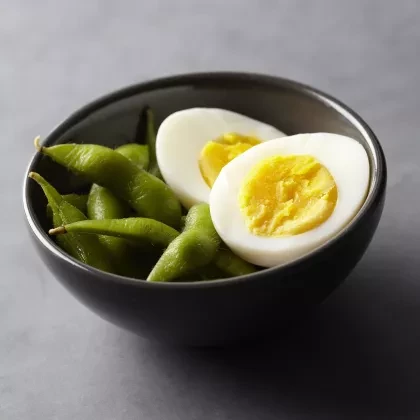 Prep time 15
Cook Time 0
Total Time 15
Nutritional Information
Calories 110kcal
Added sugars 0g
Carbohydrates 3g
Fat 7g
Saturated Fat 2g
Monounsaturated Fat 2g
Protein 9g
Cholesterol 187mg
Dietary Fiber 1g
Potassium 205mg
Sodium 64mg
Total sugars 1g
Instructions
STEP 1 To hard-boil eggs: Place eggs in a single layer in a saucepan; cover with water. Bring to a simmer over medium-high heat. Reduce heat to low and cook at the barest simmer for 10 minutes. Remove from heat, pour out hot water and cover the eggs with ice-cold water. Let stand until cool enough to handle before peeling.
STEP 2 To cook edamame: Bring 1 inch of water to a boil in a pot fitted with a steamer basket. Add edamame, cover and steam until the beans are tender, about 2 minutes.
STEP 3 Serve the hard-boiled eggs with the edamame.
© Meredith Corporation. All rights reserved. Used with permission.
Ingredients
4 large eggs
1 cup edamame in-the-pod