Salad, side/appetizer
Pineapple & Avocado Salad
Overview
This refreshing, simple Cuban salad recipe captures the flavors of the tropics. Serve alongside spiced chicken or pork, with rice and beans.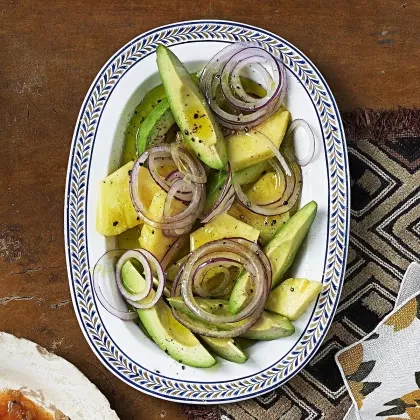 Prep time 20
Cook Time 0
Total Time 20
Nutritional Information
Makes: 8 Servings
Serving size: 1 cup each
Calories 186kcal
Added sugars 0g
Carbohydrates 20g
Fat 13g
Saturated Fat 2g
Monounsaturated Fat 9g
Protein 2g
Cholesterol 0mg
Dietary Fiber 5g
Potassium 374mg
Sodium 75mg
Total sugars 12g
Instructions
STEP 1 Soak onion in a small bowl of ice water for 15 minutes to mellow the bite.
STEP 2 Meanwhile, halve avocados and cut each half into slices. Peel pineapple, halve lengthwise into quarters, remove the core and cut each quarter crosswise into slices.
STEP 3 Whisk oil and lime juice in a small bowl. Drain the onion and pat dry. Arrange half the avocado, pineapple and onion on a serving plate, sprinkle with 1/4 teaspoon salt and drizzle with half the dressing; repeat the layers.
© Meredith Corporation. All rights reserved. Used with permission.
Ingredients
¼ cup thinly sliced red onion, separated into rings
Ice water
2 firm ripe avocados
1 medium fresh pineapple
3 tablespoons extra-virgin olive oil
1 tablespoon fresh lime juice
½ teaspoon kosher salt