Main dish, combination meal
Mediterranean Tuna Panini
Overview
For a great sandwich filling, spike canned tuna with salty olives and capers, bright lemon juice and tangy feta.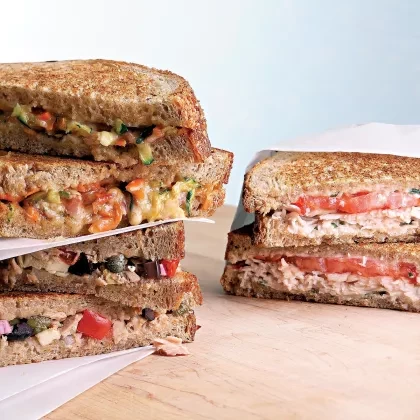 Prep time 25
Cook Time 0
Total Time 25
Nutritional Information
Makes: 4 Servings
Serving size: 2 bread slices and 1/2 cup tuna mixture
Calories 336kcal
Added sugars 3g
Carbohydrates 35g
Fat 6g
Saturated Fat 2g
Monounsaturated Fat 3g
Protein 34g
Cholesterol 61mg
Dietary Fiber 5g
Potassium 52mg
Sodium 543mg
Total sugars 5g
Instructions
STEP 1 Have four 15-ounce cans and a medium skillet (not nonstick) ready by the stove.
STEP 2 Place tuna in a medium bowl and flake with a fork. Add tomato, feta, artichokes, onion, olives, capers, lemon juice and pepper; stir to combine. Divide the tuna mixture among 4 slices of bread (about 1/2 cup each). Top with the remaining bread.
STEP 3 Heat 1 teaspoon canola oil in a large nonstick skillet over medium heat. Place 2 panini in the pan. Place the medium skillet on top of the panini, then weigh it down with the cans. Cook the panini until golden on one side, about 2 minutes. Reduce the heat to medium-low, flip the panini, replace the top skillet and cans, and cook until the second side is golden, 1 to 3 minutes more. Repeat with another 1 teaspoon oil and the remaining panini.
© Meredith Corporation. All rights reserved. Used with permission.
Ingredients
2 6-ounce cans chunk light tuna , drained
1 plum tomato , chopped
¼ cup crumbled feta cheese
2 tablespoons chopped marinated artichoke hearts
2 tablespoons minced red onion
1 tablespoon chopped pitted kalamata olives
1 teaspoon capers , rinsed and chopped
1 teaspoon lemon juice
Freshly ground pepper to taste
8 slices whole-wheat bread
2 teaspoons canola oil