Main dish, vegetarian
Meal-Prep Vegan Moroccan Lettuce Wraps
Overview
For these meal-prep-friendly lettuce wraps, we swap the traditional warm filling for a cold plant-based bean salad filling loaded with fresh herbs and lemon. Topping each lettuce leaf with a little quinoa before adding the filling helps to keep the lettuce from getting soggy.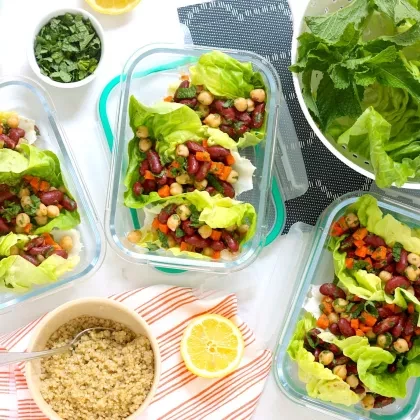 Prep time 10
Cook Time 0
Total Time 10
Nutritional Information
Calories 425kcal
Carbohydrates 50g
Fat 20g
Saturated Fat 3g
Protein 14g
Dietary Fiber 14g
Potassium 871mg
Sodium 551mg
Total sugars 3g
Instructions
STEP 1 Combine water (or broth) and quinoa in a medium saucepan. Bring to a boil. Reduce heat to low, cover and simmer until tender and most of the liquid has been absorbed, 15 to 20 minutes. Fluff with a fork, let cool.
STEP 2 Sprinkle garlic with 1/2 teaspoon salt and mash with the side of a knife or with a fork to form a paste. Scrape the paste into a large bowl. Add the remaining 1/2 teaspoon salt, oil, lemon juice, cumin and cinnamon and whisk to combine. Stir in kidney beans, chickpeas, carrot, parsley.
STEP 3 To prepare 1 serving of lettuce wraps: Place 3 lettuce leaves in a single-serving lidded container. Top each leaf with 2 tablespoons quinoa and about 1/3 cup bean salad. Sprinkle each mint. Refrigerate for up to 1 day.
© Meredith Corporation. All rights reserved. Used with permission.
Ingredients
2 cups water or broth
1 cup quinoa
1 small clove garlic , chopped
1 teaspoon kosher salt , divided
½ cup extra-virgin olive oil
¼ cup lemon juice
¼ teaspoon ground cinnamon
2 tablespoons ground cumin
2 15-ounce cans dark red kidney beans , rinsed
1 15-ounce can chickpeas , rinsed
1 cup finely diced carrot
1 ½ cups chopped fresh parsley
2 heads butter or Bibb lettuce , leaves separated
½ cup chopped fresh mint