Appetizer
Homemade Trail Mix
Overview
Mix it up with any combination of dried fruits and nuts.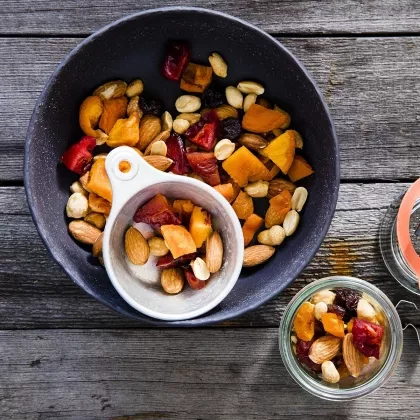 Prep time 5
Cook Time 0
Total Time 5
Nutritional Information
Calories 156kcal
Added sugars 0g
Carbohydrates 21g
Fat 7g
Saturated Fat 1g
Monounsaturated Fat 4g
Protein 4g
Cholesterol 0mg
Dietary Fiber 3g
Potassium 247mg
Sodium 0mg
Instructions
STEP 1 Combine almonds, peanuts, cranberries, dates and apricots (or other fruit) in a medium bowl.
© Meredith Corporation. All rights reserved. Used with permission.
Ingredients
¼ cup whole shelled (unpeeled) almonds
¼ cup unsalted dry-roasted peanuts
¼ cup dried cranberries
¼ cup chopped pitted dates
2 ounces dried apricots or other dried fruit