Hawaiian Steak Fajitas with Grilled Pineapple Salsa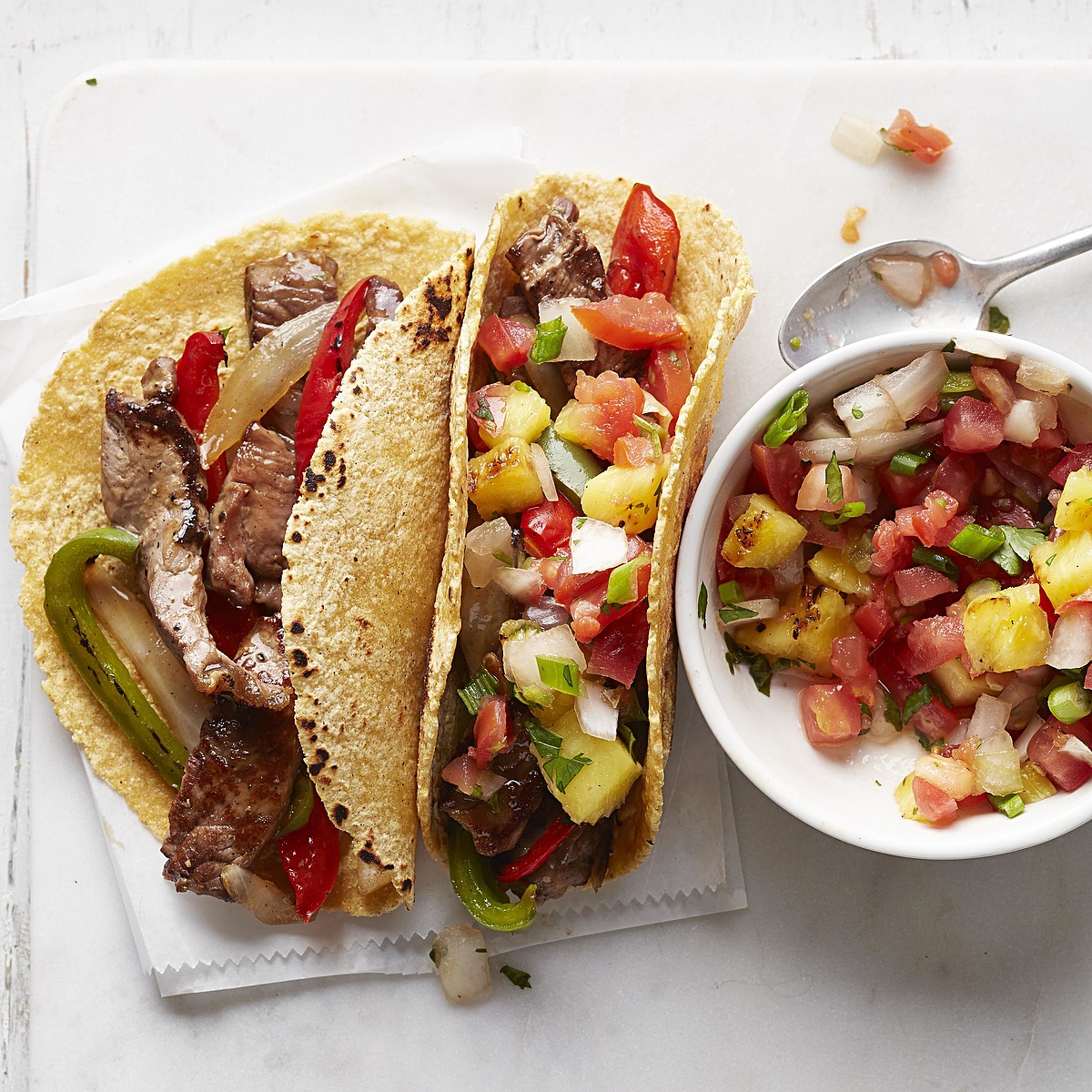 Overview
Prepeeled pineapple, presliced peppers and onions and fresh pico de gallo help this quick, healthy dinner recipe come together in a flash. Chicken tenders are a good substitute for the steak if you prefer. Blend up some margaritas and call it a party.
Nutritional Information
4 Servings
| | |
| --- | --- |
| Calories | 378 |
| Carbohydrates | 37g |
| Fat | 14g |
| Saturated Fat | 3g |
| Mono Fat | 8g |
| Protein | 27g |
| Cholesterol | 61mg |
| Dietary Fiber | 5g |
| Potassium | 612mg |
| Sodium | 532mg |
Ingredients
1 pound strip steak , trimmed
4 cups presliced fresh pepper-and- onion mix (about 12 ounces)
2 tablespoons extra-virgin olive oil
¼ teaspoon salt
¼ teaspoon ground pepper
2 slices prepeeled fresh pineapple (¾ inch thick; about 4 ounces)
3 tablespoons reduced-sodium teriyaki sauce
¼ cup pico de gallo or other fresh tomato salsa
8 corn tortillas , warmed
Instructions
Place a grill basket on one half of grill; preheat the grill to high.

Cut steak crosswise into 1/4-inch-thick strips. Toss in a medium bowl with peppers and onions, oil, salt and pepper.

Place the steak and vegetables in the grill basket; grill, stirring once or twice, until the vegetables are soft and charred, 8 to 10 minutes. Oil the other side of the grill rack; place pineapple on the rack and grill, turning once, until slightly charred, about 2 minutes per side.

Transfer the steak and vegetables to a large bowl and toss with teriyaki sauce. Dice the pineapple and combine in a small bowl with pico de gallo (or salsa).

Serve the steak and vegetables on tortillas with the salsa.
© Meredith Corporation. All rights reserved. Used with permission.
You also might like