Main dish, fish/seafood
Garlic Roasted Salmon & Brussels Sprouts
Overview
Roasting salmon on top of Brussels sprouts and garlic, flavored with wine and fresh oregano, is a meal that is simple enough for a weeknight meal yet sophisticated enough to serve to company. Serve with whole-wheat couscous.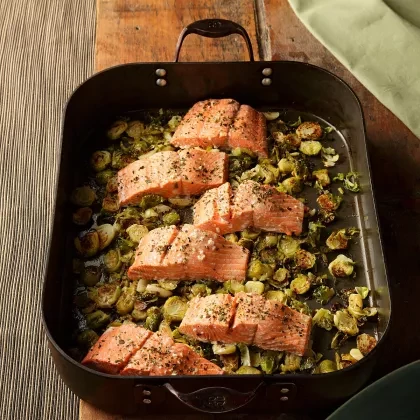 Prep time 25
Cook Time 20
Total Time 45
Nutritional Information
Makes: 6 Servings
Serving size: 6
Calories 334kcal
Added sugars 0g
Carbohydrates 10g
Fat 15g
Saturated Fat 3g
Monounsaturated Fat 9g
Protein 33g
Cholesterol 71mg
Dietary Fiber 2g
Potassium 921mg
Sodium 485mg
Total sugars 2g
Instructions
STEP 1 Preheat oven to 450°F.
STEP 2 Mince 2 garlic cloves and combine in a small bowl with oil, 1 tablespoon oregano, 1/2 teaspoon salt and 1/4 teaspoon pepper. Halve the remaining garlic and toss with Brussels sprouts and 3 tablespoons of the seasoned oil in a large roasting pan. Roast, stirring once, for 15 minutes.
STEP 3 Add wine to the remaining oil mixture. Remove the pan from oven, stir the vegetables and place salmon on top. Drizzle with the wine mixture. Sprinkle with the remaining 1 tablespoon oregano and 1/2 teaspoon each salt and pepper. Bake until the salmon is just cooked through, 5 to 10 minutes more. Serve with lemon wedges.
© Meredith Corporation. All rights reserved. Used with permission.
Ingredients
14 large cloves garlic, divided
1/4 cup extra virgin olive oil
2 tablespoons finely chopped oregano
1 teaspoon salt
3/4 teaspoon freshly ground pepper
6 cups brussel sprouts, trimmed and sliced
3/4 cup white wine, preferably Chardonnay
2 lbs. wild-caught salmon fillet, skinned, cut into 6 portions
9 lemon wedges, for serving