Appetizer
EatingWell Deviled Eggs
Overview
Deviled eggs are a perennial potluck favorite. Our recipe replaces some of the egg yolks with nonfat cottage cheese—keeping the filling velvety and rich while reducing some of the fat. No one will know the difference.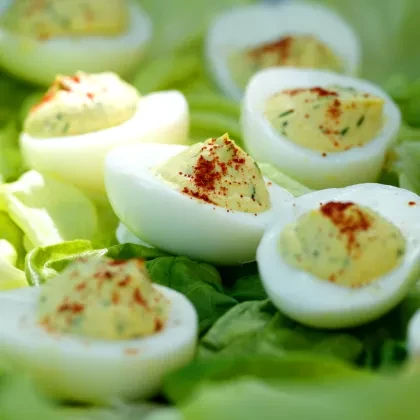 Prep time 20
Cook Time 0
Total Time 20
Nutritional Information
Makes: 24 Servings
Serving size: 1 deviled egg
Calories 34kcal
Added sugars 0g
Carbohydrates 1g
Fat 2g
Saturated Fat 1g
Monounsaturated Fat 1g
Protein 3g
Cholesterol 71mg
Dietary Fiber 0g
Potassium 31mg
Sodium 85mg
Total sugars 0g
Instructions
STEP 1 Halve eggs lengthwise with a sharp knife. Gently remove the yolks. Place 16 yolk halves in a food processor (discard the remaining 8 yolk halves). Add cottage cheese, mayonnaise, chives (or scallion greens), relish, mustard and salt; process until smooth.
STEP 2 Spoon about 2 teaspoons yolk mixture into each egg white half. Sprinkle with paprika, if desired.
© Meredith Corporation. All rights reserved. Used with permission.
Ingredients
12 large hard-boiled eggs , peeled
⅔ cup nonfat cottage cheese
¼ cup low-fat mayonnaise
3 tablespoons minced fresh chives or scallion greens
1 tablespoon sweet pickle relish
2 teaspoons yellow mustard
⅛ teaspoon salt
Paprika for garnish