Main dish, vegetarian
Creamy Blueberry-Pecan Oatmeal
Overview
In this satisfying, on-the-go oatmeal recipe, protein-rich Greek yogurt, crunchy pecans and sweet berries make this the perfect healthy breakfast. Short on time in the morning? Try our overnight oatmeal variation.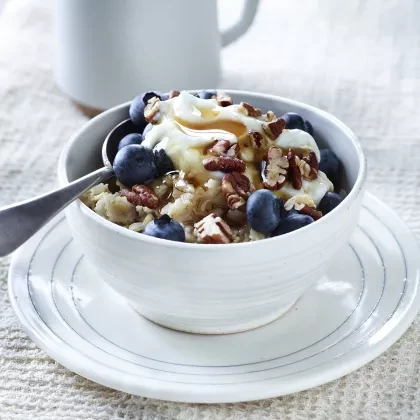 Prep time 10
Cook Time 0
Total Time 10
Nutritional Information
Makes: 1 Servings
Serving size: 1 1/2 cups
Calories 291kcal
Added sugars 9g
Carbohydrates 49g
Fat 8g
Saturated Fat 1g
Monounsaturated Fat 4g
Protein 9g
Cholesterol 1mg
Dietary Fiber 6g
Potassium 298mg
Sodium 165mg
Total sugars 18g
Instructions
STEP 1 Bring water and salt to a boil in a small saucepan. Stir in oats, reduce heat to medium and cook, stirring occasionally, until most of the liquid is absorbed, about 5 minutes. Remove from heat, cover and let stand 2 to 3 minutes. Top with blueberries, yogurt, pecans and syrup.
© Meredith Corporation. All rights reserved. Used with permission.
Ingredients
1 cup water
Pinch of salt
½ cup old-fashioned rolled oats
½ cup blueberries, fresh or frozen , thawed
2 tablespoons nonfat plain Greek yogurt
1 tablespoon toasted chopped pecans
2 teaspoons pure maple syrup