Main dish, combination meal
Chipotle Chicken Quinoa Burrito Bowl
Overview
This chipotle-flavored burrito bowl recipe is even better than takeout and just as fast. Loading it with vegetables and using quinoa in place of rice adds nutrition for a healthy dinner.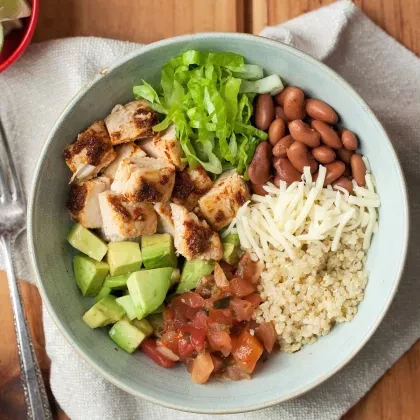 Prep time 30
Cook Time 0
Total Time 30
Nutritional Information
Makes: 4 Servings
Serving size: 1 burrito bowl, about 2 1/2 cups
Calories 452kcal
Added sugars 0g
Carbohydrates 36g
Fat 19g
Saturated Fat 4g
Monounsaturated Fat 10g
Protein 36g
Cholesterol 90mg
Dietary Fiber 9g
Potassium 995mg
Sodium 462mg
Total sugars 3g
Instructions
STEP 1 Preheat grill to medium-high or preheat broiler.
STEP 2 Combine chipotles, oil, garlic powder and cumin in a small bowl.
STEP 3 Oil the grill rack or a rimmed baking sheet, if broiling. Season chicken with salt. Grill the chicken for 5 minutes or broil it on the prepared baking sheet for 9 minutes. Turn, brush with the chipotle glaze and continue cooking until an instant-read thermometer inserted in the thickest part registers 165°F, 3 to 5 minutes more on the grill or 9 minutes more under the broiler. Transfer to a clean cutting board. Chop into bite-size pieces.
STEP 4 Assemble each burrito bowl with 1/2 cup quinoa, 1/2 cup chicken, 1/2 cup lettuce, 1/4 cup beans, 1/4 avocado, 1 tablespoon pico de gallo (or other salsa) and 1 tablespoon cheese. Serve with a lime wedge.
© Meredith Corporation. All rights reserved. Used with permission.
Ingredients
1 tablespoon finely chopped chipotle peppers in adobo sauce
1 tablespoon extra-virgin olive oil
½ teaspoon garlic powder
½ teaspoon ground cumin
1 pound boneless, skinless chicken breast
¼ teaspoon salt
2 cups cooked quinoa
2 cups shredded romaine lettuce
1 cup canned pinto beans , rinsed
1 ripe avocado, diced
¼ cup prepared pico de gallo or other salsa
¼ cup shredded Cheddar or Monterey Jack cheese
Lime wedges for serving