Main dish, poultry
Chicken & Snap Pea Stir-Fry over Angel Hair Pasta
Overview
This chicken stir-fry recipe highlights golden-brown cubes of chicken breast with the sweet flavors of sliced fennel, crispy snap peas and tarragon. Use a cast-iron skillet or carbon-steel wok for stir-frying to guarantee a beautiful sear on the chicken and vegetables. Serve this over whole-grain angel hair pasta for an easy, healthy dinner.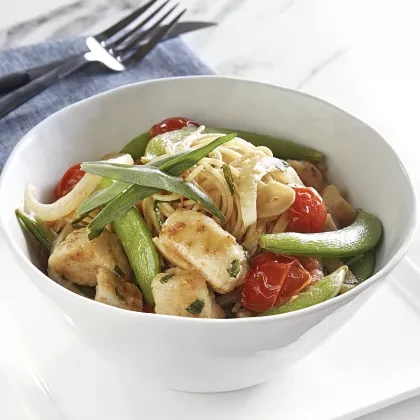 Prep time 35
Cook Time 0
Total Time 35
Nutritional Information
Makes: 4 Servings
Serving size: 1 1/4 cups chicken & vegetables, 1 cup pasta
Calories 517kcal
Added sugars 0g
Carbohydrates 62g
Fat 14g
Saturated Fat 2g
Monounsaturated Fat 9g
Protein 35g
Cholesterol 63mg
Dietary Fiber 11g
Potassium 869mg
Sodium 534mg
Total sugars 6g
Instructions
STEP 1 Bring a large pot of water to a boil. Add pasta and cook until just tender, about 4 minutes. Reserve 1/4 cup of the pasta water, then drain and keep the pasta warm.
STEP 2 Meanwhile, cut chicken into 1-inch cubes and sprinkle with 1/4 teaspoon each salt and pepper. Place flour in a shallow dish. Add chicken and toss to coat.
STEP 3 Heat 1 tablespoon oil in a large cast-iron skillet or flat-bottom carbon-steel wok over medium-high heat until shimmering. Add the chicken and cook, stirring, until browned and just cooked through, 4 to 5 minutes. Transfer to a plate.
STEP 4 Add the remaining 2 tablespoons oil, fennel and garlic to the pan; cook, stirring, until the vegetables just start to soften, 1 to 2 minutes. Add tomatoes, snap peas, wine, the reserved pasta water and the remaining 1/2 teaspoon salt and 1/4 teaspoon pepper. Continue to cook, stirring, until the tomatoes start to burst, about 3 minutes.
STEP 5 Return the chicken to the pan along with tarragon; cook, stirring, until the liquid is slightly thickened, about 2 minutes more. Serve the chicken and vegetables over the pasta.
© Meredith Corporation. All rights reserved. Used with permission.
Ingredients
8 ounces whole-wheat angel hair pasta
1 pound boneless, skinless chicken breasts trimmed
¾ teaspoon salt divided
½ teaspoon freshly ground pepper divided
¼ cup all-purpose flour
3 tablespoons extra-virgin olive oil divided
1 medium bulb fennel cored and sliced
¼ cup thinly sliced garlic
1 pint cherry tomatoes halved
2 cups snap peas trimmed
⅔ cup white wine
4 teaspoons chopped fresh tarragon