Side dish, vegetable
Cauliflower Rice Pilaf
Overview
For a change of pace, and a new way to enjoy your veggies, swap your brown rice with this finely chopped cauliflower "rice."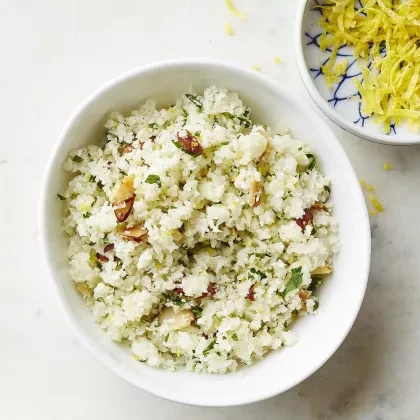 Prep time 20
Cook Time 0
Total Time 20
Nutritional Information
Makes: 6 Servings
Serving size: 2/3 cup
Calories 114kcal
Added sugars 0g
Carbohydrates 7g
Fat 9g
Saturated Fat 1g
Monounsaturated Fat 7g
Protein 3g
Cholesterol 0mg
Dietary Fiber 3g
Potassium 361mg
Sodium 227mg
Total sugars 2g
Instructions
STEP 1 Pulse cauliflower florets 2 cups at a time in a food processor until chopped into rice-size pieces.
STEP 2 Heat oil in a large skillet over medium-high heat. Add garlic and cook until fragrant, about 30 seconds. Add the cauliflower rice, sprinkle with salt and cook, stirring, until softened, 3 to 5 minutes. Remove from heat. Stir in almonds, herbs and lemon zest.
© Meredith Corporation. All rights reserved. Used with permission.
Ingredients
6 cups cauliflower florets (about 1 head)
3 tablespoons extra-virgin olive oil
2 cloves garlic , minced
½ teaspoon salt
¼ cup asted sliced almonds
¼ cup chopped fresh herbs, such as chives, parsley, cilantro and/or basil
2 teaspoons lemon zest