Main dish, poultry
Cauliflower Chicken Fried "Rice"
Overview
Get an extra serving of vegetables and cut back on carbs by replacing rice with riced cauliflower in this healthy chicken fried rice recipe.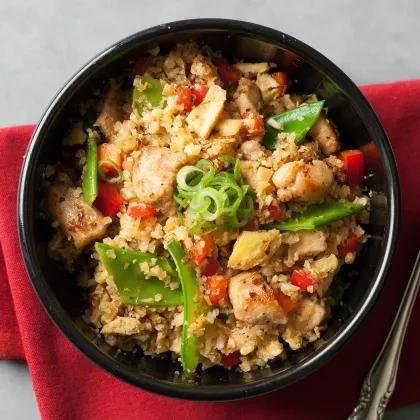 Prep time 35
Cook Time 0
Total Time 35
Nutritional Information
Calories 304kcal
Added sugars 0g
Carbohydrates 12g
Fat 15g
Saturated Fat 4g
Monounsaturated Fat 6g
Protein 30g
Cholesterol 200mg
Dietary Fiber 4g
Potassium 883mg
Sodium 591mg
Total sugars 5g
Instructions
STEP 1 Heat 1 teaspoon oil in a large flat-bottomed carbon-steel wok or large heavy skillet over high heat. Add eggs and cook, without stirring, until fully cooked on one side, about 30 seconds. Flip and cook until just cooked through, about 15 seconds. Transfer to a cutting board and cut into 1/2-inch pieces.
STEP 2 Add 1 tablespoon oil to the pan along with scallion whites, ginger and garlic; cook, stirring, until the scallions have softened, about 30 seconds. Add chicken and cook, stirring, for 1 minute. Add bell pepper and snow peas; cook, stirring, until just tender, 2 to 4 minutes. Transfer everything to a large plate.
STEP 3 Add the remaining 1 tablespoon oil to the pan; add cauliflower rice and stir until beginning to soften, about 2 minutes.
STEP 4 Return the chicken mixture and eggs to the pan; add tamari (or soy sauce) and sesame oil (if using) and stir until well combined. Garnish with scallion greens.
© Meredith Corporation. All rights reserved. Used with permission.
Ingredients
1 teaspoon peanut oil plus 2 tablespoons , divided
2 large eggs , beaten
3 scallions , thinly sliced, whites and greens separated
1 tablespoon grated fresh ginger
1 tablespoon minced garlic
1 pound boneless, skinless chicken thighs , trimmed and cut into ½-inch pieces
½ cup diced red bell pepper
1 cup snow peas , trimmed and halved
4 cups cauliflower rice
3 tablespoons reduced-sodium tamari or soy sauce
1 teaspoon sesame oil (optional)