Main dish, poultry
Broccoli Rabe & Chicken White Pizza
Overview
The bold flavors of garlic, crushed red pepper and lemon make up for the fact that this white chicken pizza recipe has less sodium than a typical pizza. Not a fan of bitter greens? Opt for broccolini or broccoli instead. To save time, look for prepared whole-wheat pizza dough at your supermarket, fresh or frozen, made without partially hydrogenated oils.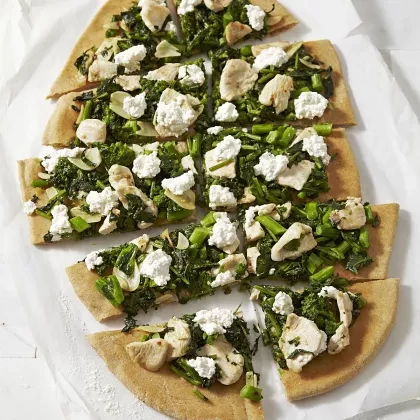 Prep time 35
Cook Time 10
Total Time 45
Nutritional Information
Makes: 5 Servings
Serving size: 2 slices
Calories 432kcal
Added sugars 1g
Carbohydrates 44g
Fat 20g
Saturated Fat 3g
Monounsaturated Fat 10g
Protein 25g
Cholesterol 45mg
Dietary Fiber 4g
Potassium 350mg
Sodium 443mg
Total sugars 3g
Instructions
STEP 1 Position a rack in lowest position of oven; preheat to 425°F. Line a large rimmed baking sheet with parchment paper or coat with cooking spray.
STEP 2 Roll out dough on a lightly floured surface to about the size of the baking sheet; transfer to the prepared baking sheet. Bake until puffed and crisped on the bottom, 8 to 10 minutes.
STEP 3 Meanwhile, cut chicken in half lengthwise and then crosswise into thin strips. Heat 3 tablespoons oil in a large skillet over medium-high heat. Add garlic and cook, stirring, until just starting to brown, 30 seconds to 1 minute. Add the chicken, broccoli rabe (or broccolini or broccoli), lemon zest, crushed red pepper and salt; cook, stirring, until the chicken is just cooked through, 4 to 5 minutes. Remove from heat.
STEP 4 When the crust is done, remove from the oven, flip it over and brush with the remaining 1 tablespoon oil. Using a slotted spoon (to help drain any excess liquid), transfer the chicken mixture to the crust and spread evenly. Combine ricotta and lemon juice and dollop all over the pizza.
STEP 5 Return the pizza to the oven and bake until the crust is crispy on the bottom, 6 to 8 minutes more.
© Meredith Corporation. All rights reserved. Used with permission.
Ingredients
1 pound whole-wheat pizza dough
12 ounces boneless, skinless chicken breast , trimmed
4 tablespoons extra-virgin olive oil , divided
¼ cup thinly sliced garlic
6 cups chopped broccoli rabe or 4 cups chopped broccolini or broccoli
Zest of 1 lemon
½ teaspoon crushed red pepper, plus more to taste
¼ teaspoon salt
½ cup part-skim ricotta
1 tablespoon lemon juice