Salad, side/appetizer
Broccoli-Bacon Salad
Overview
A picnic favorite, this salad combines broccoli, water chestnuts, cranberries and just a little bacon for delicious results. Our version has plenty of creaminess without all the fat. Make it once and it will become a regular on your backyard barbecue menu.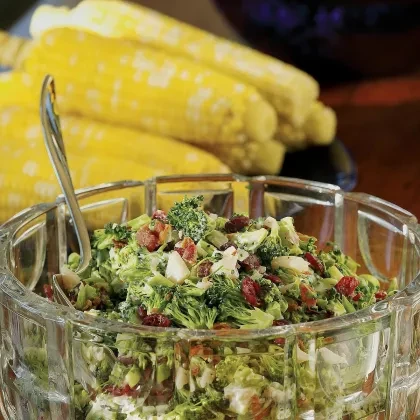 Prep time 20
Cook Time 0
Total Time 20
Nutritional Information
Makes: 6 Servings
Serving size: 1 scant cup
Calories 89kcal
Added sugars 3g
Carbohydrates 12g
Fat 4g
Saturated Fat 1g
Monounsaturated Fat 1g
Protein 3g
Cholesterol 8mg
Dietary Fiber 3g
Potassium 193mg
Sodium 200mg
Total sugars 4g
Instructions
STEP 1 Whisk garlic, mayonnaise, sour cream, vinegar and sugar in a large bowl. Add broccoli, water chestnuts, bacon, cranberries and pepper; stir to coat with the dressing.
© Meredith Corporation. All rights reserved. Used with permission.
Ingredients
1 clove garlic , minced
¼ cup low-fat mayonnaise
¼ cup reduced-fat sour cream
2 teaspoons cider vinegar
1 teaspoon sugar
4 cups finely chopped broccoli crowns
1 8-ounce can sliced water chestnuts , rinsed and chopped
3 slices cooked bacon , crumbled
3 tablespoons dried cranberries
Freshly ground pepper to taste